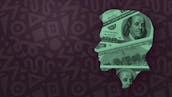 Idea To Income
How To Start a Company and Turn Your Entrepreneurial Dreams into Reality
Take This Class
Let's take away the training wheels and rip that band-aid off right now. If you really believe that you need a $500,000 seed round of funding in order to build a business that has value, there's a shock headed your way.
The mindset that you need hundreds of thousands of dollars in investments to start a business is so outdated that it's being shared in an AOL email photocopy of a faxed article from a discontinued business magazine.
In short: that kind of thinking is wrong. It caters to a world where becoming an entrepreneur is a goal that's damned near unattainable for the majority of brilliant, hard-working people.
FREE Online Class:
Get access to one of our best-selling online classes,
Idea To Income
, for free today.
In that world, the road to becoming an entrepreneur is paved with investment collateral, documents, pitch decks, PDFs, stat sheets, networking, shaking hands, remembering names and straight up begging people to give you the coveted opportunity to network more, shake more hands, remember more names, and beg again just to get a check that probably won't come close to the amount you needed in the first place.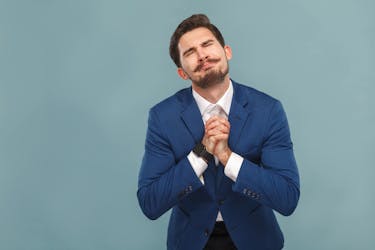 That's the world that mass media and startup books and billion dollar exits want you to believe in.
When you tell someone that you want to start a business, that's the way of thinking they're programmed to fall back on.
They're going to ask: how much does it cost to start a business? And here's what you can tell them . . .
Less Than $100.
The magic of business today is that you can start up your startup without small business loans, big investment capital, or driving yourself into a pit of personal debt.
All you actually need is a laptop, a phone, and access to Wifi.
Where you once would have had to throw thousands into office space (a long-term financial  commitment), you can now work out of your local library, a coffee shop, or even from your couch.
Think you need to buy fancy servers to run your software off of? You can rent cloud services from Amazon or Microsoft.
Completely custom website development can rack up costs into the thousands. Check out a Squarespace site for $20 a month or a Wix page for $5 a month. Rock an online storefront that can match or even beat your competitors.
And when it comes to legal fees? You can operate as a sole proprietor without any official legal entity. Becoming a sole proprietor could even help you during tax season.
You'll need to keep track of your customers in order to communicate with them and track your business's success. You can use a free platform for your customer relationship management (CRM) and there are dozens of options, from Hubspot to Insightly. These options aren't janky either—they are top of the line, top quality software products designed to make CRM capabilities available to every self-starter's business.
Same goes for your marketing costs. Premium tools like Buffer, Mailchimp, and Google Analytics are all employed by Fortune 500 companies. They're also free.
If you drill down to it, the costs to make your entrepreneurial dreams a reality are going to look something like this: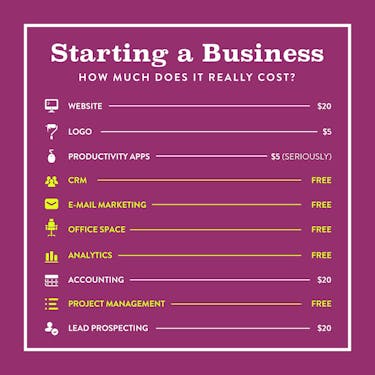 Scaling down won't just spare you the pressures, the pain, the time wasting, and the rejection of constantly seeking capital. You'll also free up your cash flow.
Instead of running a business like an expense report, your cash flow is in your hands. It's for covering costs, paying for scale, supporting customers, and providing you with a decent profit.
The simplicity and joy of that can't be overstated.
You'll be able to up the quality of the products and the services you offer, live with less pressure, and make your workplace a happier and healthier environment (even if it is a coffee shop).
Still unsure? Ask Mailchimp. Ask BaseCamp. Those companies are built on the principles we're talking about, and they're thriving. They've avoided taking on investments or loans so that they could slowly and organically build scalable, valuable companies.
Bootstrap Your Small Business Startup
The costs incurred in building a business this way are going to have to come out of your pocket. Let's not lie to ourselves about that.
That's okay though. The money you're spending is the money that you can commit based on your needs and your capabilities.
You won't have to go out and justify your expenses or argue for more money in board meetings with people who are worried that you're putting their investments through a shredder.
And when your company succeeds? It's money that gets paid right back to you. As a business owner, there is no better feeling than knowing the impact your contribution had on your company—and to see it paid back in full from your own hard work.
When people ask me how they can get money to start a business, this is the approach that I always offer is: commit yourself to $100 a month. Spend that money wisely and grow organically. Have a clear business plan. Start small.
Don't try to go out there and pull $1,000 out of thin air. You're wasting your time, your energy, and your life by creating unnecessary financial stress for yourself.
It Comes Down to You.
There are so many options today. The path to being a successful entrepreneur is no longer a series of sucking up to rich people and untrustworthy banks. Instead, it's lined with opportunities to back yourself, to be independent and take advantage of the technology that equalises entrepreneurship for the masses.
There's no excuse left. You can't say you can't afford it. You can't say people won't invest. You can't say that you don't have the capital behind you. You can't say people don't believe in you. Because right now, it just comes down to one person.
You.
(And your $100.)