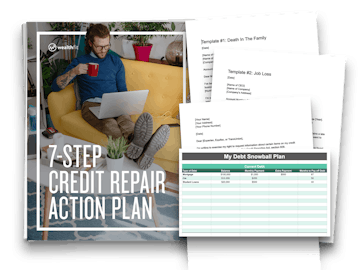 The Complete DIY Credit Repair Kit
Are you desperate to raise your credit score fast? It makes sense — your credit score impacts so much of your life and it takes so long to build or repair your credit history.
But there's a drastic measure few know about . . . you can actually buy someone else's good credit history.
It's called buying tradelines.
It's no secret that credit scores play a huge role in major purchase decisions. A low credit score can lead to higher interest rates, higher insurance premiums, and even loan denial. 
For the 68 million Americans suffering from bad to poor credit, the credit repair process can seem long and grueling — paying off debt, getting rid of credit cards, and creating perfect payment history is only the start. 
There has to be a quicker solution, right?
Maybe. 
You could ask (or pay for) someone else's credit score to boost your credit score.
In this guide, we will explore: 
what a credit tradeline is 
the legality of tradelines as well as other implications of buying tradelines 
how a tradeline will impact your credit score
cheap tradelines
tradelines for sale
tradeline examples
additional resources to improve your credit score 
If you're ready to learn everything you need to know about tradelines, and whether or not they're right for you right now, let's get started! 
Free Download:
"The Complete DIY Credit Repair Kit"
Download Now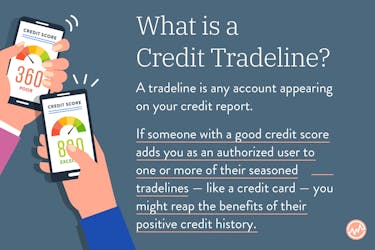 What Is A Credit Tradeline?
A tradeline is any account appearing on your credit report. 
If someone with a good credit score adds you as an authorized user to one or more of their seasoned tradelines — like a credit card — you might reap the benefits of their positive credit history. 
Parents, for example, often add their children as authorized users on credit card accounts in an effort to help them build credit.
Buying a tradeline is sometimes called "renting" a tradeline. Although the name is different, the concept is the same. 
In fact, renting is actually a more accurate term. 
When someone adds you to their credit card as an authorized user, the primary account holder can always remove you from the account again later. 
This credit repair technique — if you decide to buy or rent tradelines — can sometimes help you quickly increase your FICO Score enough to: 
gain approval on loans
negotiate better interest rates
have a rental application approved
overall, help you save money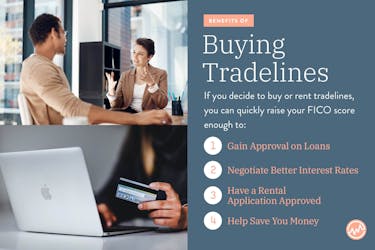 Buying tradelines, or "buying someone else's credit" is considered a loophole for those who are suffering from low credit scores. 
Yet the practice can be risky. 
In some cases, it may even be considered as fraud. 
There's nothing wrong with the authorized user strategy itself. 
According to a 2010 report from the Federal Reserve Board, over 33% of U.S. citizens have one or more authorized user tradelines on their credit report. 
Most of these add-ons come from friends and family members, but what about those who don't have a close pal willing to add them to their line of credit? 
Here's where you start to get into the gray area.
This exact scenario is why more and more companies are offering customers the opportunity to buy tradelines to improve their bad credit. 
You simply pay the company a fee, give your name and Social Security number, and they link you with someone who has a well-managed credit card account that's willing to add you as an authorized user. 
Before we discuss the advantages and disadvantages of tradelines, let's explore one of the main questions associated with tradelines. 
Is Buying Tradelines Legal?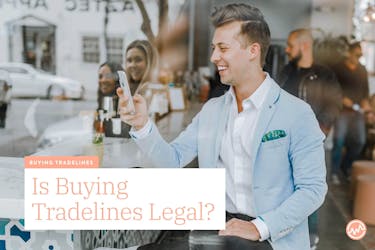 When you buy tradelines from companies, you can't have the perks without the cold, hard truth. 
While not illegal, buying credit and paying for authorized user tradelines can be seen as dishonest. 
Creditors and lenders aim to make logical, fair credit decisions based on:
By purchasing a tradeline, you are basically telling creditors that all of the positive information about someone else is true about you. 
Of course, some would point out that this type of "piggybacking" is done all the time. 
Like we said earlier, one-third of Americans are already using other people's credit — otherwise "authorized users" — to improve their scores. 
While they typically do so by becoming authorized users on friends' and family members' accounts, is that really different than using a third party's credit history? 
Some would argue "no." 
Regardless, it's something you'll want to consider before rushing to buy tradelines. 
According to Experian, "buying tradelines to improve your credit score may be perceived as deceiving the lender or even committing bank fraud." 
Why Is Credit So Important?
Credit history plays a huge role in adult life.
Without good credit, you may have limited access to credit like auto loans, credit cards, or mortgages. 
You may also have higher interest rates for the credit you can obtain, which could end up costing you more money in the long run.
But if you do have a good score — whether that's your present situation or that's your goal — you can generally enjoy more access to financing with lower interest rates. 
(But be careful — excessive use of credit can lead to debt, and there is a difference between good debt and bad debt!)
Your credit history — which is found on your credit report — is graded by a credit score that ranges from 300 to 850. 
The rule of thumb is that a score of 600 or below is poor, while a score of 750 or better is great.
Your credit score is comprised of: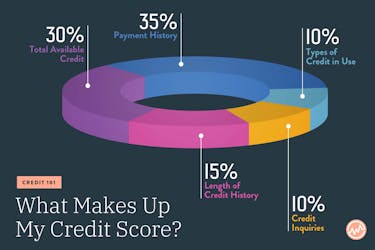 35% Payment History
30% Amounts Owed
15% Length of Credit History
10% Credit Inquiries 
10% Types of Credit in Use
This breakdown not only can offer some explanation for your current credit score, but it also shows just how important it is to monitor all aspects of how your score is graded.
Regardless of how poor your credit situation is, choosing to spend your money on credit repair services is a big decision. 
Companies all over the internet are advertising and persuading people, like you, to partake in this service — so it's more important than ever to do your homework. 
Here's the truth behind what happens when you buy tradelines.
Do Tradelines Really Work? 
Once you buy tradelines, you're added as an authorized user to someone else's credit card.  The card issuer will generally report that information to the credit bureaus — Equifax, TransUnion, and Experian. 
If the card issuer reports the account to the credit bureaus, a new positive tradeline will be added to your credit report. 
The new tradeline may increase your credit score and could help offset negative information found on your current credit report. 
How Long Does It Take For Tradelines To Post?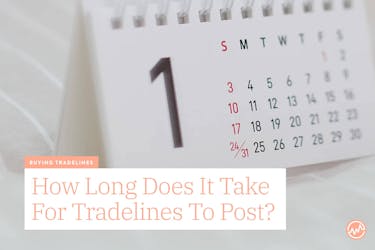 If you buy a tradeline, how soon can it buoy your credit score? Although it can take up to 90 days, most banks report updated account information to credit bureaus at least every 45 days. 
It's worth noting, however, that buying or renting a tradeline doesn't guarantee that your credit score will increase.
Implications of Buying Tradelines
Privacy Issues
Companies offering credit repair services and tradelines require the use of your sensitive information. Providing your Social Security number is mandatory to be added as an authorized user to someone else's account.
When you buy a tradeline, you likely won't know the person who's receiving your sensitive information. Any time your personal information is shared, especially with third parties, there is always the risk of someone stealing your identity or using your information illegally.
Long-Term Success
Using someone else's credit as your own also has a low chance of long-term success. Even if you get approved for a loan or credit line, do you actually have the money and responsible spending habits to successfully manage those accounts? 
It's important to be realistic about your credit score and habits. 
Buying credit in the form of buying tradelines can give a false pretense that you can afford things you cannot, simply because you are able to obtain approval for the loan or credit line. 
It would be devastating to default and hurt a credit score you paid hundreds or even thousands to increase. 
Worse, the lender who didn't get paid back as expected might even sue you or report you for bank fraud.
That being said, it's entirely possible that your credit history does not reflect your financial choices today. 
You may have made credit mistakes when you were younger that are still appearing on your credit report, even though you're much more responsible with money now. 
In a scenario like that one — where you feel confident that your past credit mistakes are behind you — it might make sense to buy a tradeline. 
That way you have something to fall back on while you wait for the bad marks on your credit to roll off. 
Still, you should be aware of and comfortable with the risks. 
Even in this situation, you're far better off asking a loved one to add you as an authorized user if you have this option. 
Only you can determine whether you're responsible enough to handle additional credit. Be sure to ask yourself these tough questions before you opt to buy a new tradeline.
While there are pros and cons to any big decision, choosing to meddle with your credit score merits doing the proper research. 
How Much Do Tradelines Cost?
The cost of renting or buying tradelines can range widely — from a few hundred dollars to $2,000 or more. 
The price you pay for a tradeline may be based on the following factors.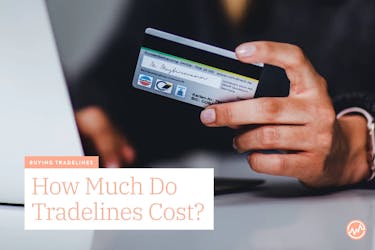 The Age Of The Account
Older tradelines potentially have the ability to improve your credit scores more than younger ones. 
Remember, 15% of your FICO Score is based on your length of credit history. 
The Credit Limit 
Your credit card limits, and how they relate to your balances, also have a big influence on your credit scores. 
When your credit utilization (aka balance-to-limit ratio) is low, your credit scores may climb. Becoming an authorized user on a credit card with a high limit could help lower your credit utilization rate.
Tradeline resellers know that becoming an authorized user on an older credit card or a credit card with a higher credit limit may potentially improve your credit scores faster. 
So, they charge a premium if you want to be added to a credit card with these features. 
Some tradeline companies also charge based on how long the primary account holder promises to keep you on the account as an authorized user.
Tradelines for Sale: How To Buy Tradelines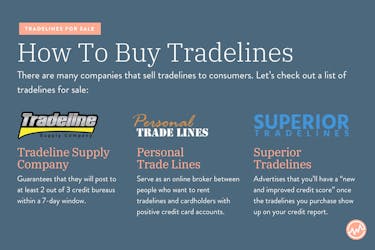 Wondering where to find tradelines for sale?
There are many companies that sell tradelines to consumers. 
If you've decided to buy a tradeline, compare offers before you hand over your payment information.
Shopping around may help you find a better deal or avoid a scam (which does happen in this industry). 
Let's check out a list of tradelines for sale. 
Tradeline Supply Company
Tradeline Supply Company clearly states they are not a credit repair company and they do not provide consultations or advice. They also do not guarantee a positive impact on your credit score, although they claim this is because it is "illegal for any organization to make false claims about its ability to fix a person's credit report or credit score" under the Credit Repair Organizations Act. 
They do, however, guarantee that they will post to at least 2 out of 3 credit bureaus within a 7-day window. They also guarantee:
• "On all tradelines purchased, we guarantee that you will remain on the card as an authorized user for 2 monthly reporting cycles.
• We guarantee that all tradelines will have a perfect payment history with no late payments ever reported.
• We guarantee that the utilization ratio will always be 15% or lower."
Their mission is to act as a liaison platform to connect those with bad credit to those with tradelines for sale. 
This 'no guarantee' tagline on your credit score may be reflected in their 3 out of 5-star rating, although they offer cheap tradelines — their tradelines start as low as $150.
Personal Trade Lines
Another option when thinking about tradelines for sale: Personal Trade Lines, based in Denver, CO. 
They serve as an online broker between people who want to rent tradelines and cardholders with positive credit card accounts. 
Currently, the company has a 4-star rating on Trustpilot and 4.5 stars under its Better Business Bureau customer reviews. They also boast a long list of 5-star reviews on Yelp.
Tradelines rentals featured on the company's website range from under $200 to over $2,500. Prices seem to primarily be based on the age of the account and the credit limit. 
The company offers a 60-day money-back guarantee. If you buy a tradeline and it doesn't show up on at least 2 out of 3 of your credit reports, you can request a refund. 
But be prepared to jump through some hoops to get your money back. You must submit a credit report that was pulled by a lender (aka a hard pull report) at least 14 days after the statement date of the credit card you were added to as an authorized user. 
When you rent a tradeline from Personal Trade Lines, it's guaranteed to meet the following criteria: 
The tradeline will post to 2 out of 3 of your credit reports within 2 weeks of the next statement date.
The credit utilization on the account will be 10% or less.  
The tradeline has a flawless payment history. 
The tradeline will remain on your credit for as long as you purchased it. 
The company also offers a 10% discount off your first order when you buy two or more tradelines.
Superior Tradelines
Superior Tradelines, another option in the tradelines for sale conversation, has been in business since 2010. 
The Florida-based company advertises that you'll have a "new and improved credit score" once the tradelines you purchase show up on your credit report. 
However, it doesn't appear that Superior Tradelines offers a guarantee to back up this claim. 
The online tradeline broker does reveal that its agreement offers a refund or replacement account. 
You can qualify if the tradeline you purchase shows up on just one (or none) of your credit reports. But if the account shows up on two or more of your credit reports, the company's services are complete. 
Like other tradeline brokers, the cost of renting a tradeline varies based on a number of factors. 
Does the company offer cheap tradelines? In general, Superior Tradelines says that tradelines cost between $600 and $1,500. The age of the account and the credit limit both play major roles in the price of a tradeline. 
Superior Tradelines currently has a 4.5-star rating on Yelp. The company is also bonded with a $10,000 surety bond. If you're interested in using this company to buy tradelines, you can also explore their tradeline simulator here. 
Coast Tradelines
Using the tagline "The fastest and most reliable way to boost your credit score," Coast Tradelines has been in business since 2010 and offers to "boost your credit score in just one week!"
Because of their low price guarantee, they offer some of the cheapest tradelines for sale. 
Their tradeline benefits include:
Low price guarantee. ​​Their policy states: "We're confident you will not be able to find prices lower than ours. If you do, we'll match it. *Price matched at company's discretion and due diligence."
They provide a refund if your tradeline does not post.  
They partner with 200+ cardholders to provide access to one of the largest AU inventories in the market.
A responsive staff where you can get answers to your questions within 24 hours.
They also offer sample tradeline prices so that you can get an idea of how cheap their inventory and pricing is.
Learn more about Coast Tradelines here. 
Improve My Credit Fitness
Another cheap tradelines option, Improve My Credit Fitness uniquely offers tradeline package deals for those interested in buying tradelines. 
Beginner: 2 tradelines, average age of at least 2 years, a total limit of at least $20,000
History Builder: 2 tradelines, average of at least 9 years, a total limit of at least $11,000+
Limit Builder: 3 traplines, average age of at least 3+ years, a total limit of at least $50,000+
Have It All: 3 tradelines, average age of at least 9+ years, a total limit of at least $50,000+
To shop their tradelines, click here. 
BoostCredit 101 
Another option if you're looking for cheap tradelines: BoostCredit 101. The company has been selling tradelines for more than 7 years, and offers a "100% post guarantee".
You can request a free tradeline consultation or shop "the best tradelines available today" here.
CreditPro 
Considered "the most trusted tradeline wholesaler", CreditPro has been providing authorized user tradelines since 2007. 
They boast tradelines with low utilization ratios — always 15% or less — along with a massive tradeline inventory. 
Plus, they have tradelines that post quickly, sometimes as soon as 5-7 days. 
Learn more about this tradeline option at CreditPro.com. 
Priority Tradelines
Aside from offering many options to buy and sell tradelines, Priority Tradelines offers a best price guarantee, as well as a 100% money-back guarantee. 
Learn more about Priority Tradelines on their website. 
What Are Business Tradelines?
Did you know that businesses have credit reports and scores, just like people? There are several commercial credit bureaus, including:
Dun & Bradstreet
Equifax
Experian
Equifax and Experian are also consumer credit reporting agencies. 
But your business credit reports and personal credit reports are separate. 
Business accounts typically show up on your business reports and vice versa (though sometimes there's overlap between the two). 
Businesses want to build good credit for the same reasons as consumers. It can save money and open doors. 
Good credit can help you get money for your business like equipment loans, small business administration (SBA) loans, and more. Solid business credit scores may also help a company secure better terms and lower interest rates when it qualifies for funding. 
Like people, businesses need positive information on their credit reports to (hopefully) establish good credit scores. 
Companies can earn good credit the traditional way by applying for credit in their business' name and managing those accounts responsibly over time. 
But some business owners want to move faster. 
Before we get into potential ways to speed up the business credit building process, let's look at traditional business tradelines and how they work. 
In the business world, the term "tradeline" describes accounts that businesses establish with vendors. 
For example, a company might open a tradeline with net-30 terms from an office supply company. (Net-30 terms mean the business gets the supplies it needs now and must pay for them within 30 days.) Business "accounts" are usually commercial loans, lines of credit, or credit cards.  
With business tradelines or accounts, many companies will report your payment activity to one or more commercial credit bureaus. If the account or tradeline is reported, it could help you build business credit as long as you pay your bill on time or, better yet, early. 
Like personal tradeline resellers, there are companies who advertise "seasoned tradelines" for businesses. 
The term "seasoned tradelines" refers to business accounts that already have established payment history. 
Because they're not new accounts, the idea is that seasoned tradelines will help your business build credit faster. 
Unfortunately, they may not live up to the hype. 
The authorized user strategy doesn't work with businesses. 
Sure, it's possible to add authorized users to business credit cards. Doing so just won't help your business establish credit. 
A company can add individuals as authorized users on its business credit card. But it can't authorize other businesses to use the account. 
There are companies who sell "shelf corporations" that already have established credit. A shelf corporation may be created for the sole purpose of reselling it to someone else later. If you buy a shelf corporation, you can start with pre-existing credit history instead of building credit from scratch. 
In practice, however, shelf corporations with seasoned tradelines don't always work the way business owners hope. They can be a giant waste of your time and money. 
Once you buy a shelf corporation, there's a risk the lender will shut down those seasoned tradelines if it thinks you're trying to game the system. Also, there's no guarantee you'll be able to qualify for funding based on this purchased credit. 
Business lenders consider more than just your credit rating when you apply for financing. 
You're better off building business credit on your own — the right way.
7 Ways To Improve Your Personal Credit Score — Fast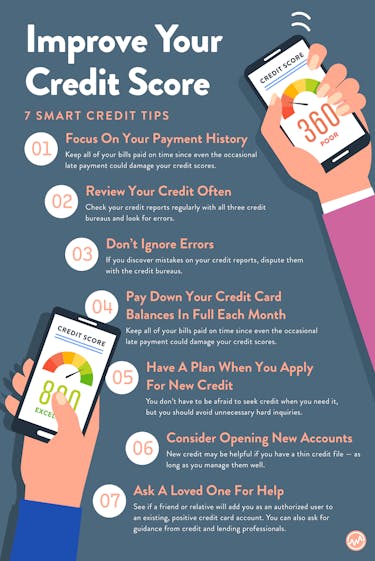 What if you don't want to buy tradelines for sale?
There are alternative options you can do to boost your credit score. 
Instead of buying tradelines, if you are desperate to improve your FICO Score, the basics of good credit will never fail you. 
You might boost your scores by following these seven smart credit tips.
Focus On Your Payment History 
Keep all of your bills paid on time since even the occasional late payment could damage your credit scores. 
Review Your Credit Often
Check your credit reports regularly with all three credit bureaus and look for errors. 
Don't Ignore Errors 
If you discover mistakes on your credit reports, dispute them with the credit bureaus.
Pay Down Your Credit Card Balances In Full Each Month 
When you pay your credit cards down to $0, it can help keep your credit utilization low and save you money on interest. 
Have A Plan When You Apply For New Credit 
You don't have to be afraid to seek credit when you need it, but you should avoid unnecessary hard inquiries.  
Consider Opening New Accounts
New credit may be helpful if you have a thin credit file — as long as you manage them well.
Ask A Loved One For Help 
See if a friend or relative will add you as an authorized user to an existing, positive credit card account. You can also ask for guidance from credit and lending professionals. 
Tradelines for Sale
If you want to buy tradelines, there are tradelines for sale for you to take advantage of. 
But keep in mind that it's possible to improve your credit score without tradelines (and without the added expense tradelines cost). 
In time, your patience will pay off tenfold once you're enjoying the perks that come with a higher credit score.
Additional Resources: Boost Your Credit Score
Once you see success in improving your credit score, whether that's with buying tradelines or other tactics listed in this article, don't stop there. 
Aim for the highest echelon of the credit score realm and you can experience tremendous financial benefits.
Here are a few additional (and free!) resources to help you get there: