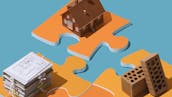 House Hacking 101
How To Use Your Home to Generate Passive Income & Live for Free
Take This Class
Quick, pop quiz: Do you have to work with a realtor to buy a new home?
If you answered no, you are correct. While most Americans use the skills and expertise of a realtor, you don't have to. There may even be some situations where it is more advantageous to not work with a realtor.
Before we dive into how to buy a house without a realtor, it's important to understand your situation and decide if it's best to go about the home buying process without a realtor.
5 Reasons To Buy A House Without A Realtor
You're An Active Real Estate Investor Yourself
Perhaps you are an active and experienced real estate investor, and you've seen and completed these types of transactions many times. 
Because of this, you may see no reason to use a realtor when you already know the process.
You Want To Negotiate Your Own Deal
If you are already an experienced real estate negotiator, you may know exactly how to get the price you want, and so you want to go through the process on your own accord without someone negotiating for you. 
FREE Online Class:
Get access to one of our best-selling online classes,
House Hacking 101
, for free today.
You're Buying A Home From A Friend Or Someone In Your Family 
In some cases, you may purchase a home from a friend or a family member. In this instance, you already have a good understanding of the house and a price point and not see the need for assistance from a realtor.
Avoid Fees
Realtors make money — commissions — from the homes that they buy and sell. This is generally around 5-6% of the sales price. 
That may not sound like much, but when you do the math — for example, 5% commission on a $300,000 house — it's $15,000. Without a realtor, you can avoid paying those fees.
Can Be Hard To Find The Right Realtor  
Asking someone to pick a home for you can be difficult. Because of this, you may want to avoid a realtor and do it yourself. 
If you decide that you want to buy a house without a realtor — whether it's for one of the reasons above or a different one, the next step is to understand the significant risks involved.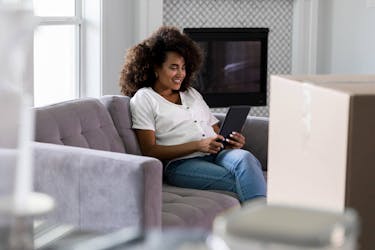 3 Risks of Buying a House Without A Realtor
Buying a house, in general, has risk, like any other investment you may pursue. Buying a house without a realtor adds more risk to the equation because realtors can help you avoid several pitfalls, including: 
Overpaying For A Home
Realtors know the "comps" — or the comparables — of how much houses should be bought and sold for based on similar houses in the market. Without a realtor, you can fall victim to overpaying for a home. 
Losing the Advantages A Realtor Has
Realtors are: 
expert negotiators
know the real estate jargon 
have access to the Multiple Listing Service (MLS), an online database where properties are listed with realtors nationwide. This gives realtors the ability to search properties for your specific criteria
bring the right relationships to the table such as attorneys, title companies, and contractors
Without a realtor, you won't be able to tap into this sort of expertise and experience. 
Paperwork
Buying a house involved a tremendous amount of paperwork. Realtors can help you through the process physically and emotionally so that important information is seen and understood. Not knowing what you're signing up for can lead to things such as overpaying for costs related to the house to serious financial consequences down the road. 
How To Buy A House Without A Realtor
If you decide that you want to buy a house without a realtor, and you understand the risks, let's explore how to buy a house without a realtor — in 8 steps. 
Step 1: Research The Process
Time Cost
The first step in learning how to buy a house without a realtor is to research the home buying process, and that includes examining the cost of doing the work yourself. Your time is your money, and know that it will take time for: 
neighborhood and community research 
finding homes to tour
planning your day off with a route of open houses
the time paperwork takes to review and fill out
Laws
Understanding any and all laws you need to abide by in your state is critical as well. 
Try Social Media 
Aside from books, guides, and talking with others in the industry, for some supplemental research, try Reddit. It offers different conversation threads about buying a house without an agent.
You don't need to create an account to read the threads, but if you want to maximize your experience by asking your own questions, creating a free account will be necessary.
Find Research Real Estate Attorneys
Keep in mind that when you don't have a realtor, you will need to have a real estate attorney. Attorneys will charge different fees, of course, but they can help you understand:
agreements
contracts
any red flags that show up during the process
Some attorneys may charge you by the hour to review documents and ensure you have all the necessary paperwork. Others may charge a retainer or fixed fee for a certain amount of time or work. 
Either way, in this step make sure to get quotes from more than just one attorney. This will help you budget better and give you the advantage of finding the attorney who will best suit your needs.
Find Title Companies
You will need to utilize title companies later on in the process. It's a good idea to get a head start researching the best title companies for your needs. 
Find Inspectors
Similarly, you'll need to utilize the talents and expertise of inspectors in this process. Now is the time to begin researching for inspectors. Aside from research online, ask around to see who the best inspector is in your local area.  
Step 2: Get Pre-Approval From A Mortgage Company Or Bank
Now that you have done a bit of research into how to buy a house without a realtor, you can start looking for the mortgage you want.
Here are a few things to keep in mind when looking for your home mortgage. 
Get Pre Qualified and Pre Approved 
You'll want to get a pre-approval letter with a specific amount you can spend from your bank or lender. This way you'll know what to expect when it comes to purchasing cost and mortgage payments. 
And keep in mind, pre-approval is different from getting prequalified — pre-qualification is merely the first step, where you provide the bank your finances and you get an idea of the loan you qualify for. After completing a mortgage application, you'll receive a conditional commitment for the loan, which is the pre-approval. 
Pre Approval also lets sellers know you are serious about buying a house. This is especially important if you are not using a realtor.
Why? 
Most Realtors require a pre-approval letter from your bank or mortgage company before entering a buyer's contract. This helps them determine if the buyer is serious and has the funds to buy.
A pre-approval letter for the lender is considered valid for generally 60 to 90 days.
Just be aware that with a pre-approval, your information is vetted and verified through:
credit agencies
your job history 
current assets
amount of your down payment 
and other relevant information
Unlike the junk mail you get from credit card and loan companies that state you're "prequalified," your information is not verified beforehand, and you must go through the application process with your lender to receive approval. 
Getting prequalified can be helpful before pre-approval if you already have a house in mind or want to get a head start of investigating neighborhoods and listed houses. 
Simply put, it gives you a basic idea of what you can afford to buy before going through providing all the information required for pre-approval. 
Step 3: Hire a Real Estate Attorney
Remember when we discussed researching for a real estate attorney? Now it's time to hire the best one you found. 
Here are three tips on what to look for when hiring a real estate attorney.
You Want A Professional
We all know someone who knows someone's friend who is an attorney, but there are many different types of law that can be practiced, along with varying laws differing in types of practice or specialization. 
Don't hire someone who isn't a practicing real estate attorney. Hire the right person for the job. 
Ask Questions
When looking for your real estate attorney, ask questions — such as if they have handled cases like yours before. 
Relative questions — such as "how long they have been practicing?" or "will others be working on my case?" — are helpful and can help you discern which attorney will best suit your needs. 
Ask For References
If an attorney is confident enough to provide references for you to contact, he or she must be confident in their skills. 
After you find the right real estate attorney, it's time to move to the next step. 
Step 4: Find Your (Future) Home
If you get to this step, and you already have your dream home in mind, use this step to further research the property, the comps and the negotiating process.
If you don't have a home in mind, this is the fun part — looking at houses.  
This is where it all starts — the actual buying a house without a realtor. You can finally start combing those "For Sale" ads or use one of the well-known listing sites such as Zillow to find that perfect home. 
Grab a newspaper or some of the free real estate magazines at your local grocery store. Not only are they a good place to find properties listed on the MLS (which you don't have access to without a realtor); they are also many services listed you might need: 
lawn care
cleaning services
inspectors (if you have a few inspectors in mind from Step 1, use this additional material to add to your list)
title or mortgage companies (similarly, if you have a few inspectors in mind from Step 1, use this additional material to add to your list)
community-related information
Check social media sites too, especially Facebook Marketplace. There are always homes for sale either by the owner or listed with a realtor. 
Keep in mind, at this point you will also need to prepare some comps. These comps give you a better idea of what you should offer and pay for the home so that you don't overpay.
When you have your comps ready, keep them on hand for the next step — offers and negotiations with the homeowner. Remember, comps can save you some serious money, especially with sellers who are expecting a high sales price because of a red-hot real estate market.
Step 5: Make An Offer And Be Prepared To Negotiate 
You know the house you want. Great! Hopefully, you're already pre-approved (Step 2) — there may be several other rumors of offers lurking about. 
You have the paperwork ready to go and all you have left to do is fill in the final details. Ensure that your real estate attorney takes a look to ensure the verbiage is correct and everything is how you want it. 
Don't be afraid to ask questions. You need to understand what is going in your contracts. 
This is also a good time to ensure you are getting what you want from the home, the seller and the negotiations. Your attorney should be there for you and have your bests interests in mind.
After your paperwork is finalized and signed, you will need to meet with the seller's agent or arrange to submit your offer — and as soon as you can.
Remember, there are possibly other offers either on the table or on the way, especially in a popular market. When you were conducting your research in Step one, you should have found where your market sits and the pace at which houses are selling so that you have a better idea now. 
At this point, you can expect the offer to be rejected — a majority of first offers are. You want this house, so you play the game. Submit a second offer to see what happens next. 
When you receive an accepted offer, it is time to move into the closing phase.
Step 6: Inspections And Other Service Providers 
The next step in learning how to buy a house without a realtor is finding an inspector. A quick pro-tip: not all inspectors are created equal. Use the list you already created (Step 1 and added to in Step 4), obtain a few references and estimates of the scope of their work along with, of course, several other estimates. Three is always a good number. 
Then, choose the one you feel most confident in. 
You want an inspector who is there for you, not the seller. So, avoid using the seller's inspector. There are plenty of ethical ones out there for you to choose from. 
As a side note, make sure you understand what all major components of your home are the most important — cosmetic versus structural.
A cabinet hinge is a minor fix compared to a crack in the foundation, or even a sink not draining — which itself could be a sign of a more severe issue than the obvious. 
In these situations, you need to get either another inspector, such as a plumber with a scope to check your pipes or an expert in foundation work for the crack in your foundation. These nuances — if not discovered — can turn your dream into a nightmare. Take the extra time and money to invest in inspections. 
At this point, you can always start gathering other service providers through referrals from your inspector or plumber, a company that does furnace repair, electrical. 
Even consider taking multiple referrals for providers, this way in case one is too busy you have a plan B already in place. 
Step 7: Closing On The Property 
It's closing day. It's time to utilize the title companies you found (Step 1 and Step 4). After choosing a title company, make sure to take a few things with you to the closing:
A copy of your government identification
Your checkbook or cashier's check for any fees or closing funds
Anything else your title company or real estate attorney asks you to bring 
Be prepared for this process. Professional service companies appreciate an organized buyer, especially since you are buying without a realtor. 
Try to arrange your attorney to be present because this can help ease the stress of the closing. 
Remember, the title company is there to help you and performs all kinds of little details, gathering all necessary pieces of information to make your closing day go smooth. Title searches are one of those important details. 
They search the history of the title to ensure there are no undisclosed mortgages, tax liens or other property liens on your new home's title. If the title company does find such liens, consult your real estate attorney, that's why they are there.
After that, you may find yourself, sitting at the table with a pen in your hand ready to take the final step in getting those house keys. 
Be prepared, this process isn't usually just a quick in and out. 
If you have a mortgage, it can take 90 minutes or more to complete the process. In the end, you should feel well versed in your mortgage and any details about your contracts.  
Step 8: Get Help Moving In
It's doubtful there are many people who enjoy moving, but you should be excited. This is a great time to:
go through all your belongings 
organize 
donate items in good condition you no longer need
Arrange all your utilities and any other services you require before moving in. Have the install dates all set since some companies, such as the internet and cable, can take a few days or more to arrange for a tech to come out and turn it on. 
Remember this time is stressful so make sure you are taking some downtime in between projects. Getting kids, friends, and family involved will make this process much easier. Reduce your stress by being prepared. 
Investing in movers is also something to consider. If it is a local move, the cost of movers might not be as steep as you think.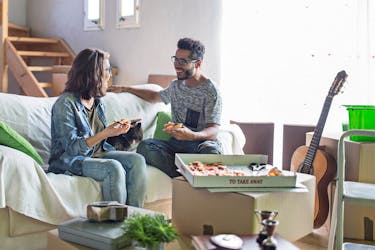 How To Buy a House Without A Realtor
Now that you know how to buy a house without a realtor, understand that doing so can be done successfully — if you understand the process and the risks. Plus, there may be instances when it's better for you to do so. 
After reading this, don't stop your real estate education. 
Learn how to: