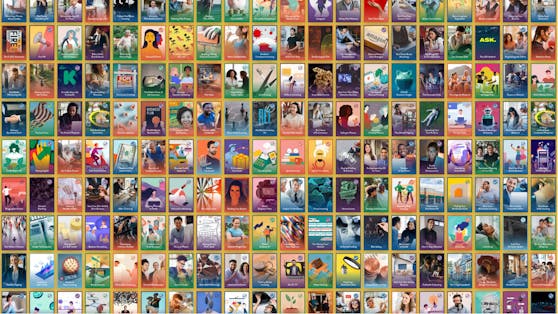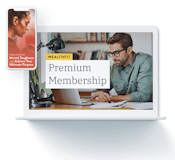 Get Access to 250+ Online Classes
Learn directly from the world's top investors & entrepreneurs.
Get Started Now
"Crowdfunding" is no longer just a buzzword. Today, it's a viable method of raising money for your business idea, whatever it might be. But how do you know whether or not crowdfunding is right for your funding your business? And how do you run a successful campaign that fully funds your endeavor?
Crowdfunding is a legitimate way of funding your business in a relatively quick time frame without having to seek out investors or take out loans.
Film director Anthony Nardolillo knows the benefits of crowdfunding for business firsthand — and much more. He turned to Kickstarter to fund his film Shine, and the results were astounding. His Kickstarter campaign raised $103,737, and he was able to successfully begin production.
In the process, Nardolillo learned about the intricacies of crowdfunding for business. He teaches his knowledge in the course Crowdfunding with Kickstarter: How to Raise the Money You Need To Get Your Business Off The Ground.
In this article, we're going to unveil a few of his tips about working with Kickstarter, a look at other crowdfunding platforms, and how to tell whether crowdfunding for business is the right avenue for you.
What Is Crowdfunding?
The basic idea of crowdfunding is to go straight to your target audience and ask them to help get your business off the ground. With crowdfunding, you can skip the process of seeking out investors or having to take out loans. 
Usually, crowdfunding for business happens on dedicated platforms. You create a campaign on these platforms and then share that campaign with your audience. The platform itself will help advertise your campaign by sharing it on the website's directory.
Types of Crowdfunding For Business
Now that we've explained what crowdfunding is, let's explore the ways to go about it. There are four main types of crowdfunding: 
reward-based
equity-based
donation-based
lending-based
Here's a breakdown of each type.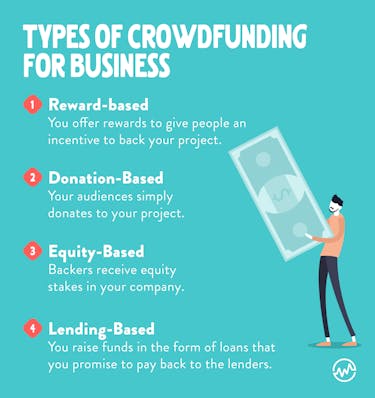 Reward-Based Crowdfunding
This is arguably the most popular type of crowdfunding. With reward-based crowdfunding, you offer rewards to give people an incentive to back your project. This is how Kickstarter and many other crowdfunding sites work.
Usually, you'll offer certain tiers of rewards, so the more someone gives to your campaign, the more they receive. Some campaigns will only have one or two reward levels, while others will have well over ten.
Donation-Based Crowdfunding
Perhaps the simplest form of crowdfunding, donation-based crowdfunding is simply where your audience donates to your project. Backers donate either through a platform or through a private donation link (such as PayPal).
Donation-based crowdfunding is often conflated with reward-based crowdfunding, but the main difference is that backers who fund a donation-based campaign aren't expecting anything in return, whereas backers who fund a reward-based campaign are usually pledging for a certain reward.
Equity-Based Crowdfunding
Equity-based crowdfunding is much closer to traditional investing. Instead of getting rewards, backers receive equity stakes in your company.
The main benefit here is being able to promote your project to people who are more likely to invest large amounts of money. As a result, equity-based crowdfunding platforms also have a higher barrier of entry — and cost more.
You have to be very careful with equity-based crowdfunding since you are giving away pieces of your company. 
This type of crowdfunding is one of the least popular, but for a niche group of entrepreneurs, it can offer unique benefits.
Lending-Based Crowdfunding
With lending-based crowdfunding, you raise funds in the form of loans that you promise to pay back to the lenders over a mutually agreed upon length of time. This option is good for entrepreneurs who want to raise money but don't want to give up equity in their company.
Of course, if you choose lending-based crowdfunding, you have to make sure you'll be able to pay back the loans. 
Crowdfunding For Business Platforms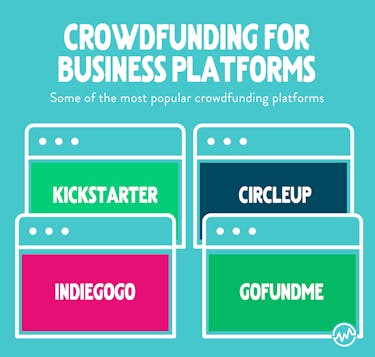 Now that you're familiar with the different types of crowdfunding, let's look at some of the most popular crowdfunding platforms and weigh their pros and cons to help find what's best for you and your business. 
Kickstarter
If you were already familiar with crowdfunding before this article, chances are you learned about it because of Kickstarter. It's the biggest crowdfunding platform, so big that its name is actually synonymous with "crowdfunding."
Nardolillo chose Kickstarter for many reasons, including:
its reward-based nature
access to a large audience
the ability to retain creative control (which was crucial since it was his own film he was funding)
Kickstarter also offers other advantages, like the flexibility in the rewards you can offer. People also trust it, so your backers will feel safe contributing to you via Kickstarter.
The major downside of Kickstarter is its fixed funding policy. If you don't meet your target goal within the time limit (up to 60 days), you won't receive any of the funding.
The fees can also add up. Kickstarter takes 5%, and then payment processors can take anywhere from 3% to 5%. Keep in mind that you will have to budget this into your initial funding goal if you're using this platform crowdfunding for business.
Indiegogo
Indiegogo used to be the other major crowdfunding platform and rivaled Kickstarter. Today, it's not used as much, but it still has an active user base and provides some advantages you won't find on Kickstarter.
The biggest thing that sets Indiegogo apart is the ability to select from fixed or flexible funding. 
With fixed funding, you get nothing unless you hit your funding goal, just like Kickstarter. But with flexible funding, you keep whatever you raise within your campaign's duration.
This has pros and cons of its own. For example, if you choose flexible funding, you might not get all the funds you need, so you'll have to come up with other ways to raise the rest.
Indiegogo has similar fees to Kickstarter: a flat 5% fee with a 2.9% + $0.30 payment processor fee. The fees are the same for fixed and flexible funding campaigns. Again, you'll have to factor these fees into consideration.
GoFundMe
Generally, GoFundMe is a platform that is used for personal fundraising, but you can use GoFundMe crowdfunding for business purposes. 
That said, businesses tend to use GoFundMe differently from how they would use Kickstarter or Indiegogo. Typically, businesses use GoFundMe to either add something new to their existing business or compensate for a material or financial loss.
Also, GoFundMe's audience consists of people who are looking to make a difference in others' lives. Generally, that means they're not interested in helping to fund a run-of-the-mill business idea. 
However, if you have a unique business idea that will help others, you might find exactly what you're looking for on GoFundMe.
CircleUp
CircleUp is one of the more popular equity-based crowdfunding platforms. So far, it's helped 256 companies raise over $390 million.
Like many other equity-based crowdfunding platforms, CircleUp is aimed at businesses that are already making $1 million to $15 million in revenue and raising $1 to $10 million in growth equity.
That rules out the majority of small businesses, but for large businesses wanting to take the next step, CircleUp has a lot to offer, including partnerships with industry leaders like Amazon and Nielsen.
Understand The Terms
After you've chosen a crowdfunding platform that best fits your needs and goals, it's absolutely imperative that you understand the terms of that platform. Crowdfunding rules and regulations vary depending on the exact platform you choose, so make sure you understand the platform's specific terms before moving forward with the creation of your campaign.
While there's the running joke that no one actually reads the terms and conditions, that's exactly what you need to do. 
If you don't, your campaign could run into delays, be taken down if it breaks the site's rules, or you could lose precious money to fees that you weren't aware of. 
Crowdfunding vs Other Funding Options
Is crowdfunding for business right for you? As you weigh this question, it's important to factor in other options. 
You might be a good fit for crowdfunding if:
You're a startup with an MVP and a confident plan of attack seeking to get off the ground. If you're a smaller company that needs that initial, well, kickstart, crowdfunding is probably a solid choice for you.
You want to connect with your target audience. Crowdfunding allows you to get personal with your ideal customers, which makes it a great tool for getting feedback and evaluating your goals.
You need a fixed amount of funding. Crowdfunding is really only suited for short-term funding, so if you know you need $XXXX to accomplish your goals, you'll be able to form a good campaign.
You might NOT be a good fit for crowdfunding if:
You're looking for industry connections. It's hard to make connections through crowdfunding since you're almost exclusively interacting with your audience and not other people in your industry. This is one area where investors can really help way more than crowdfunding can.
You need long-term funding. If you need a consistent stream of investments coming in, crowdfunding isn't the best option. 
4 Ways To Run A Successful Crowdfunding Campaign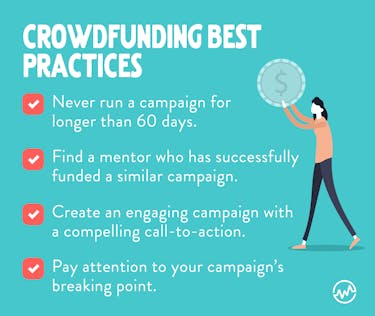 If you've done all your research and decided that crowdfunding for business is right for you, then you'll want to observe some best practices to ensure your chances of success.
Here are some of Nardolillo's best tips for crowdfunding.
Never run a campaign for longer than 60 days.
The timeframe of your campaign is vital to its success. If your campaign runs too long, then there's no sense of urgency. But on the other hand, if your campaign is too short, it might not gain enough traction.
The exact amount of time varies, but you don't want to go past the 60-day mark. You might only need 30 days to accomplish your goals, or you might need the full 60. This is why it's important to plan ahead, research the cost of your campaign, and develop realistic expectations based on similar projects.
Find a mentor who has successfully funded a similar campaign.
For best results, reach out to someone who has successfully launched a campaign that's similar to yours. They'll be able to offer you specific tips and help you learn from their mistakes. This is also a great opportunity to expand your network.
Create an engaging campaign with a compelling call-to-action.
The presentation of your campaign is critical. If the presentation is lackluster, people may be reluctant to support your project.
Having a video is an absolute must. You don't need a professionally produced video, but you do want to put as much effort as possible into your video. Make sure it clearly communicates your value proposition.
You also need a strong call-to-action that gives people a reason to invest. Ultimately, they're investing in you, not your project, so be personable and tell people why they should back you.
Pay attention to your campaign's breaking point.
Statistically, you can tell early on if a crowdfunding campaign will succeed or fail. As a rule of thumb, you want to raise 50% to 70% of your goal when you're 30% through your campaign. This is the breaking point, or the pass-fail barrier, that will fairly accurately predict the success of your campaign.
For example, if you need to raise $5,000 in 30 days, then at 9 days into the campaign you should be at 50-70% of your goal.
Is Crowdfunding For You?
Crowdfunding is a great option that's allowed businesses to accomplish goals they would otherwise have been unable to.
At the same time, crowdfunding isn't a magical solution. You'll have to apply this knowledge, analyze your needs, and be realistic about what crowdfunding for business can do for you.
If you want to learn more about the finer details of crowdfunding, watch Crowdfunding with Kickstarter: How to Raise the Money You Need To Get Your Business Off The Ground. In the course, you will learn:
How to create and execute a 60-Day Kickstarter Campaign Plan from exciting start to fully-funded finish
How to build a 3-Person Campaign Dream Team to help you plan, promote, and manage your project
Where to find and pitch "matching donors" to instantly 2X the funds you raise online
Components of a great kickstarter sizzle video 
And more.