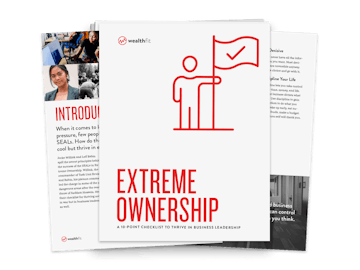 The Extreme Ownership Checklist
Have you ever begun a project with loads of enthusiasm and excitement, only to have it come crashing down halfway through?
We all have.
But it doesn't have to be that way.
Use the Extreme Ownership checklist and its extreme ownership principles to begin and end every project with empathy, camraderie, and discipline.
What is Extreme Ownership?
Extreme Ownership is the story of two US Navy SEALs: Leif Babin and Jocko Willink. Leif met Jocko (his commander) in 2005 during the Iraq War.
Jocko and Leif spent the rest of their careers together in the SEALs, and their unit became the most decorated unit in the Iraq War.
When they left active service, they decided they shouldn't let their experience as leaders go to waste.
In 2012, the duo founded Echelon Front, a leadership training program.  
Their company trains executives and business owners, shaping them into better leaders. It does this using:
long-range leadership courses
workshops
public speaking
strategic advising
web-based training program
Free Download:
"The Extreme Ownership Checklist"
Download Now
Extreme Ownership: Leadership Training From Navy SEALs
It's common for veterans to transition into small business owners, especially veterans from the special forces.
There is a clear connection between the skills required to own and operate a business and those used to effectively navigate the battlefield.
In fact, 9% of all businesses owned in America in 2012 were owned by veterans.
So when Jocko and Leif founded their leadership consulting firm, Echelon Front, it was a recipe for success.
Their philosophy of leadership is based on the principles they forged while fighting on the frontlines (Echelon Front translates to Team Forward).
There, they had to lead in what was a clearly challenging environment. As a result, they found that they were able to test and validate leadership concepts firsthand in complex and chaotic situations.
Today, they've found that the leadership principles they learned as Navy SEALs are directly applicable to leadership situations off the battlefield as well.
Babin and Willink's business venture has turned out to be very successful. Their client list includes some of the biggest publicly traded companies in the world. Companies like Shell, Microsoft, Boeing, and GE.
And after gaining years of experience in the private sector coaching executives and providing large scale consultation for corporations, Jocko and Leif decided that it was time to take Echelon Front's values and philosophy to a new market.
Extreme Ownership Principles
Extreme Ownership: How U.S. Navy Seals Lead and Win was published in 2015, and co-authored by none other than Leif and Jocko.
It wraps up all of what Echelon Front offers into a compelling read.
The book provides examples of various military experiences and explains how those experiences help illustrate specific leadership principles — extreme ownership principles.
Then, the book shows how these extreme ownership principles can be applied to the business world.
Extreme Ownership has been wildly successful.
In 2018, an updated edition of the book appeared on the #1 New York Times Bestseller list.
It's also remained on Amazon's Most Read chart for over 30 weeks.
With a 5-star rating on Amazon and thousands of reviews, Extreme Ownership is a must-read.
But if you're looking for a sample, here's a checklist we've created based on the philosophy of the book.
The checklist will allow you to start and end any project with extreme ownership.
10 Step Extreme Ownership Checklist
Here is the checklist for approaching projects using extreme ownership principles.
There are 10 steps, and each is important — no skipping.
1. Define and embrace the mission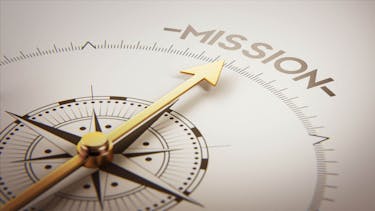 Start with the mission. Answer these questions:
What result is the team looking for?
What is the ideal outcome?
What is the purpose of your team?
The first step is to define and embrace the mission. You need everyone to be on the same page about the team's objective. However, team members shouldn't just be aware of the team's mission—they also need to believe in it.
Examples:
Imagine you're the editor-in-chief of a small, quarterly magazine.
Mission: Publish high quality magazine content for our readers to generate profits for our company.
Results: Printing deadlines are met with approval from publishing and advertisers. Content increases in quality with each volume, and readership will have increased with the quality.
2. Take inventory of your available tools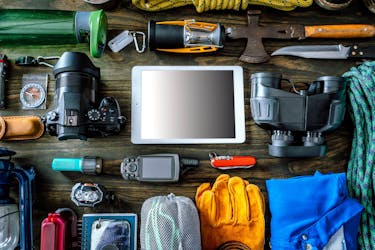 Make a list of all the tools at your disposal. What do you already have to accomplish your mission?
The list should include:
team members
assets
resources
timeframes
Team members are any persons involved and devoted to the completion of the mission.
Assets are the tools you already have and can leverage. Assets include things like office spaces, computers, software applications, and more.
Resources are the potential tools and means you have available. Resources include things like budgets and contacts.
Timeframes are the time periods able to be devoted to the mission between the start and end of the project.
Examples:
Team Members
Editor-in-chief: The team leader. Oversees every step of production. Has the most responsibility and is the ultimate executor of the mission.
Designers (3 of them): Follows instructions from the Editor-in-chief for how to organize the magazine. Has autonomy and responsibility over the magazine's appearance and flow.
Staff Writers (3): Follows instructions from the Editor-in-chief for what to write. Has autonomy and responsibility over the sources, angles, and directions of articles.
Assets
Office space and basic office equipment
Teleconferencing equipment
Advertiser client list
Support
Online stock-photo archive
Freelance writing network
Timeframe
10 weeks for production
2 weeks for printing and distribution
3. Divide & Conquer Planning: Empower team members to plan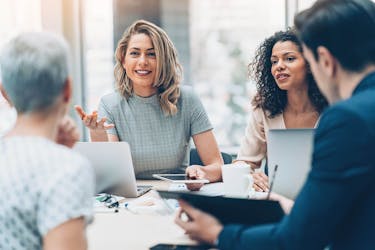 Next, create your plan.
But don't do everything.
Empower team members to plan their part.
Give key team members autonomy and authority to plan the execution of their contribution to the mission.
Examples:
Empower the Designers to create a plan for styling the magazine.
Empower the Staff Writers to plan their research, outlines, and deadlines.
4. Brainstorm unexpected obstacles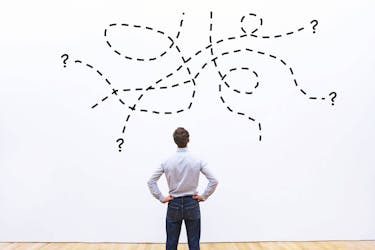 You know the old saying — even the best-laid plans go awry.
To prevent that, you'll want to review your plan and brainstorm unexpected obstacles.
You can do so by considering these questions:
What obstacles are we not accounting for?
What single thing, going wrong, could wreck the entire mission?
What is our plan taking for granted?
Examples:
If one of the designers quits, we won't be able to publish in time.
If the writer's research takes too long, we'll be short on content.
5. Plan for unexpected obstacles
Now that you have developed a list of unexpected obstacles, make a plan to mitigate them.
No plan is bulletproof, but having a plan will reduce panic and downtime.
Examples:
The designers should hire and train an intern who could replace a designer if necessary.
The writers should plan for more content than can be published in case we need to cancel some articles.
6. Explain the plan to everyone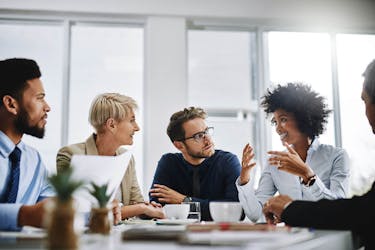 This step cannot be overlooked. Departments of a team need to know the goals and methods of other departments.
This maximizes synergy, and occasionally reveals unexpected errors in the plan — another extreme ownership principle.
Example:
Hold a team-wide meeting and go through the entire plan in a PowerPoint. Give a brief overview. You don't need 100% specificity.
7. Empower team members and begin executing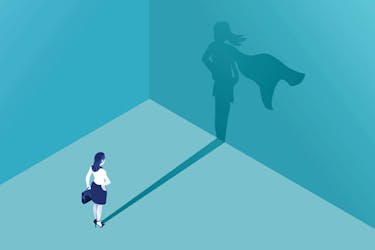 Give team members all the support and authority they need, then put them to work.
Make them own their contribution is another extreme ownership principle.
Examples:
Find an intern for the designers to train and cover in case of emergency.
Give the writers a surplus of ideas and resources to use for research.
8. Compare progress to your plan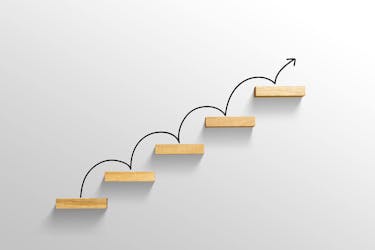 Your job as a leader is to do everything in your power to keep the team working towards the mission. You also need to make sure they're executing on time!
Don't wait until the 5-yard line to check the progress of the goal. You should be reviewing progress every step of the way — that's an extreme ownership principle.
Example:
Meet with the writing team every day to discuss their progress on research, outlining, and writing. Compare their progress to the plan they created. If they fall behind schedule, alter the plan to bring them up to speed.
9. Communicate changes to everyone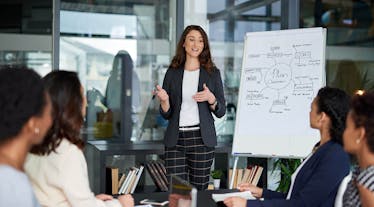 Every time the plan changes or is updated, you must reaffirm the mission and plan to the entire team. All team members need to be on the same page. Even if a team member is only remotely related to the change in plans, they need to be updated. According to extreme ownership principles, no man or woman should be left behind.
Example:
One of the designers is taking a maternity leave and will be replaced by the intern. Everyone needs to be updated about the dates of the designer's absence and to contact the intern instead of the designer.
10. Reflect on your performance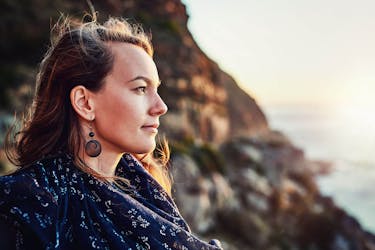 You should always evaluate how well your team implemented the project plan once the project is complete.
Regardless of whether the project succeeds or fails, take time to reflect on the team's performance immediately by answering these questions:
What could we have done better?
Where did we underperform on our plan?
Did we keep to schedule?
What communications never took place?
Were there problems we should have anticipated?
In which areas did the team excel?
Did your team have good productivity?
When you've answered these questions, create a strategy to correct the shortcomings.
For example, if your team struggled with deadlines and other productivity issues, help your team learn the rules of extreme productivity by developing laser focus and accomplishing more.
Then, develop a specific plan for implementing the corrections in the next project.
These corrections are another extreme ownership principle.
Example:
After publishing the magazine, have a team-wide meeting and reflect on the team's success and failure. Write a strategy for correcting the missteps on the next project. That way the team can apply the lessons they've learned and turn failure into success.
The Bottom Line: Extreme Ownership Principles
If you're looking to crush every project with empathy, camaraderie, and discipline, use these extreme ownership principles and the 10-step extreme ownership checklist.
Doing so can improve your performance now — and in the future.