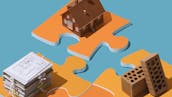 A 80-Minute On-Demand Class
House Hacking 101
How To Use Your Home to Generate Passive Income & Live for Free
Take This Class for FREE Today
Wouldn't it be great if you could build equity in a house while living rent free?
This isn't a fantasy; there is a proven way to build equity in your home while someone else pays your mortgage.
It's called house hacking. 
FREE Online Class:
Get access to one of our best-selling online classes,
House Hacking 101
, for free today.
What Is House Hacking?
House hacking is the practice of using a primary residence to generate income to offset the cost of that residence's monthly mortgage. 
Depending upon the amount of income, house hacking provides the unique opportunity for the owner of the property to live nearly rent-free or even completely rent-free. 
Why House Hack?
House hacking has become increasingly popular in high-cost housing markets. As real estate prices in certain cities have skyrocketed, house hacking has allowed young homebuyers the opportunity to invest in real estate that they otherwise might not have been able to afford. 
There are advantages and disadvantages associated with house hacking. We will look at both next.
House Hacking: Pros and Cons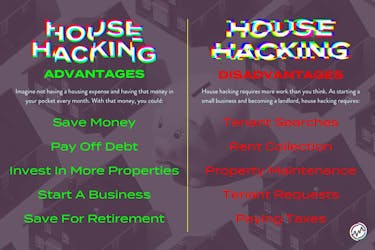 House Hacking Advantages
The biggest advantage of house hacking is reducing or completely eliminating your mortgage expense each month.
Imagine not having a housing expense and having that money in your pocket every month.
With that money, you could:
House hacking allows you to build your wealth quicker and at a younger age. What an advantage that is!
House Hacking Disadvantages
House hacking isn't as simple as buying, for example, a duplex and collecting rent every month. There is more work involved than most think. 
With house hacking, you are starting a small business and becoming a landlord.
House hacking requires:
finding tenants
collecting rent
maintaining the property 
accommodating the requests of your tenants
paying taxes on rental income
For some, these requirements may be seen as a disadvantage. 
Another disadvantage is that, as with any real estate investment, there is risk involved, because you are relying on another party to pay your rent every month, so you can live rent free. 
There is always the risk of:
a tenant not paying rent 
a tenant causing damage to the property
not having a tenant for a prolonged period of time
Financing Options for House Hacking
There are multiple ways of financing a house hacking property. This includes: 
House Hacking with a Conventional Loan
Conventional loans are beneficial to house hackers because they provide low interest rates, which leads to lower mortgage payments, and makes it easier to live rent free.
House Hacking with a FHA Loan
Another option for financing is a Federal Housing Administration (FHA) loan. 
FHA loans typically come with a smaller down payment, as little as 3.5% down, which can be attractive to home buyers who don't have a large amount of savings. 
A downside of a small down payment is that it will require mortgage insurance, which can lead to higher monthly costs.
House Hacking: Types of Properties 
House hacking can be done in many different ways.
There are many opportunities to reduce your mortgage expense and live rent-free if you think creatively.
House Hacking with a Duplex
Typically, when most people think of house hacking, they think of a duplex. 
For a property that consists of two units, house hacking involves the owner living in one unit and renting out the other. 
To generate more income, the owner can rent out an extra bedroom in their unit. 
However, if you're up for getting creative, you can house hack with many other property types.
Consider a three-family, referred to as a triplex. A triplex is one step up from a duplex, though sometimes harder to find, and consists of three units. 
Same as a duplex, an owner typically live in one unit and rents out the other two units. 
House Hacking with a Single Family Property
You can even house hack with a single-family home. 
There are multiple ways of doing this from renting out an extra bedroom to a monthly tenant, or even Airbnbing an extra bedroom out to generate income. 
In some cases, property owners have even turned their garages, referred to as Carriage Houses, into livable spaces that they then rent out. 
#3: Build An Accessory Dwelling Unit On Your Property
An accessory dwelling unit, or ADU, is a small secondary dwelling unit that is attached to or detached from a primary residence. 
ADUs are often used as rental units, providing extra income for homeowners, and is another option to house hack your way to living rent free. 
Building an ADU can be a great way to boost your income and offset some of your housing costs. However, there are a few things to keep in mind before you get started.
If you want to use this house hacking option, you will first need to check with your local zoning regulations to see if ADUs are allowed in your area. 
Second, you will need to determine what type of ADU you want to build. 
There are three main types of ADUs:
Detached ADUs 
These are stand-alone units that are not attached to the main residence.
Attached ADUs
These units are attached to the main residence, often above the garage or in a converted basement space.
Interior ADUs
These units are created by converting existing interior space within the main residence, such as an unused bedroom or den.
Once you have decided what type of ADU you want to build, you will need to obtain the necessary permits and approvals from your local government. 
The permitting process can be lengthy and expensive, so be sure to budget for these costs.
After you have obtained all the necessary permits, you will need to find a contractor to help you build your ADU. Be sure to get bids from several contractors and compare costs before you make a final decision with this house hacking option. 
Once you have everything in place legally and you build your ADU, you'll have an excellent opportunity to make some extra income. 
You can rent out your ADU to tenants or even use it as a vacation rental.
Learn more about ADUs with this WealthFit-approved guide. 
#4: Provide Rental Space On Your Property
Do you own a piece of property already? If so, you could consider renting out space for:
This is a great way to house hack and earn some extra income because you'll be able to offset the cost of your mortgage or rent by renting out space on your property.
#5: Offer Rooms In Your Home Available For Short-Term Rentals
If you live in a popular tourist destination, you could make some extra money by offering rooms in your home available for short-term rentals. 
This is another great way to house hack and earn some extra income.
Learn more about this house hacking option with this WealthFit-approved AirBNB guide. 
House Hacking Example
Let's look at a house hacking example: a duplex located in Columbus, OH. 
The purchase price of $350,000, and the real estate investor pays 20% down with an interest rate of 3.2%.
One unit is rented for $2,100. 
Additionally, one-bedroom on the owner's side is rented for $500.
Here is the house hacking breakdown: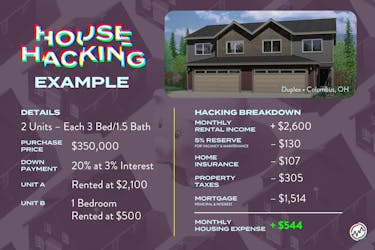 In the example above, not only would the real estate investor's mortgage be covered every month and live rent free — an additional $544 would line their pocket.
4 Things to Look for When Buying a Property To House Hack
Now that you know what house hacking is and how it can help you save money on your housing costs, it's time to start looking for a property to purchase. 
But not just any property will do. 
There are certain things you should look for in order to make sure that house hacking is right for you.
Here are a few things to keep in mind when searching for a property to house hack.
Look for a Property with Multiple Units
The more units there are, the more people you can have living with you — and the more money you can save by house hacking. 
Look for properties with at least two units, but three or four would be even better.
Look for a Property in Need of Some Repair
Typically, properties that need some work are more affordable than those that don't. 
This is because most people don't want to deal with the hassle of repairs. 
But if you're willing to put in a little elbow grease, you can save a lot of money on your purchase and be on your way to house hacking.
Look for a Property in a Desirable Location
The closer your property is to popular amenities and attractions, the easier it will be to find tenants. 
So, if you're looking to house hack, be sure to search for properties in desirable areas.
Look for a Property with Potential for Rent Growth
You want to purchase a property that will appreciate in value over time so that you can make a profit when you eventually sell it. 
Because of this, look for properties in areas with strong rental demand and potential for future rent growth.
By keeping these things in mind, you can be sure to find a property that is perfect for house hacking, and that will help you save money on your housing costs.
House Hacking: How To Live Rent Free
Although house hacking has advantages and disadvantages, it is a proven way to build equity in a house while living rent free. If you're looking to build wealth while saving money, we encourage you to learn more about the strategy before deciding if its right for you.