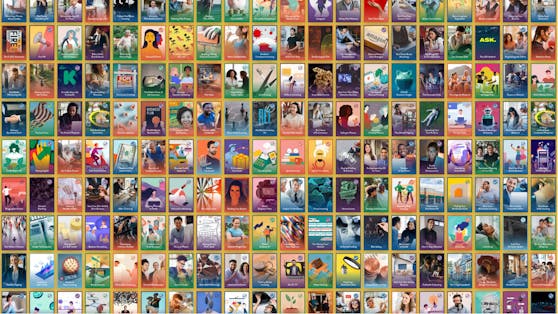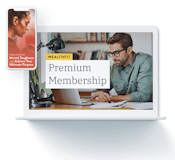 Get Access to 250+ Online Classes
Learn directly from the world's top investors & entrepreneurs.
Get Started Now
Do you know how to monetize your website?
Whether you've got a brand new or established site, you can — and frankly, should be — using several simple monetization techniques to get the most out of your website financially.
In today's digital-savvy world, there's truly no reason why you can't be making money from your website. 
It can generate revenue while you sleep, meaning that much of making money from a website comes from frontloading the work followed by automation, allowing you to allocate your time and attention elsewhere.
In this article, we'll break down how to monetize your website in 15 proven ways so that you can take the next step in your entrepreneurial endeavors. 
If you aren't making money from your website, you can choose from one of many in this list. If you are already monetizing your website but want to refine the process, this list might include some methods that you may not be currently using. 
Ready to learn how to monetize a website? Let's get started!
How to Monetize a Website: 15 Ways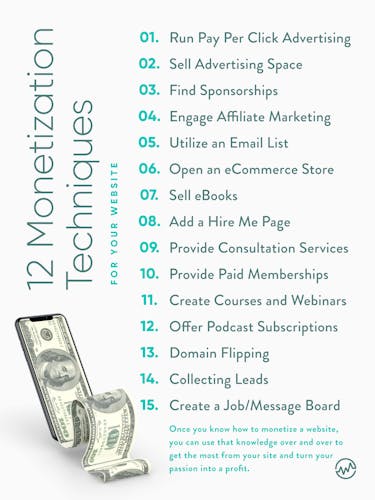 1. PPC Ads/Google Ads
When people hear the question "how to monetize a website," the next word they usually think is "ads." 
Indeed, PPC ads — which stands for "Pay Per Click" — have been a staple of website monetization for years.
How do these ads work? Hence the name, you pay a small fee only when someone clicks on your ad, which will then send them to your website's product page. 
The first step is to decide which PPC platform you want to use. Google Ads is the most popular PPC platform by far (because Google is such a massive source of traffic). 
Next, establish a budget. It's easy to spend a lot of money on PPC ads, so you need to be strategic with your ad spend. 
After that, you set up your ad campaigns in the platform you chose with creative images and text. 
After you begin running ads, don't expect to walk away and be done with the process. Instead, be ready to experiment and tweak your approach based on the results you're seeing in real-time. 
If you're wondering how to monetize your website, PPC ads are a profitable and simple solution. 
2. Sell Ad Space
It's easy to advertise your business using PPC ads, but you can also do the exact opposite by selling ad space on your website if you're garnering traffic. 
There are a few main ways to sell ad space:
PPC Ads
You can actually sell PPC ads on your site. Google has the most popular platform for this with AdSense. 
If this interests you, create an account, follow the simple steps and you'll be on your way to selling ads and generating revenue. 
Sell Ad Space Directly to Businesses 
Again, depending upon how much traffic your website is receiving, you can sell ad space directly to businesses for a flat fee. 
You can set your own rates and maintain full control over the specific businesses that advertise on your site.
It's important to note that some advertising space is seen more, and therefore should cost more. A banner at the top of the page, for example, will likely be more expensive than an ad situated in the middle of an article or on the left or right-hand side of the page. 
Therefore, it's important to price out each of these ad options to a client in the form of a press kit, which should include your ad rates, along with background information about your company/website.  
Paid Mentions/Reviews
If it fits your site's direction and scope, you can charge for an editorial review of products and services. 
The benefit of the client is that you are endorsing their product to your viewership, while you're receiving payment for doing so. 
3. Sponsorships
Another answer to those wondering how to monetize a website: sponsorships. 
This is a particularly flexible method because there are so many types of content that can be sponsored, from blog posts to podcast episodes and even the background design of your website. 
When you speak with a brand, whether you pitched them or they pitched you, it's important to give them an idea of how many viewers you get and why you're a good match for them. 
If you go this route, make sure that you disclose your partnerships in order to comply with FTC guidelines.
4. Affiliate Marketing
Affiliate marketing works like this: when someone uses your unique affiliate link to visit a page and make a purchase, you get a percentage of that sale. 
The first step is to research products in your industry and niche that you can review. After that,  sign up for affiliate programs (such as Amazon or Wordpress). 
You can also reach out to a company and see if you can get an affiliate link to share even if they don't have a full-fledged affiliate program.
Once the links are in place on your website, such as on your blog, any time someone uses it to then purchase a product, you get a percentage of the sale.
If you're wondering how to monetize a website, affiliate marketing is both a proven and profitable way.
5. Utilize An Email List
If you have an engaged email list, you can do a lot with it. Most often, this means using existing monetization methods found in this article along with your email list. 
For example, if you're using affiliate links, you can build those into your email marketing by strategically sending them to your list. 
Here's another example: sending out newsletters with links to your content can increase traffic, which can then increase the chances of selling ads to clients. 
If you don't have an email list, it's never too late to start creating one. 
One of the many ways to do this is to create an opt in portal on your website. It's even better to offer something in return for their email address — such as an eBook or other resources. When someone enters their email address, it will be sent directly to you and you can begin collecting these email addresses, which then become leads.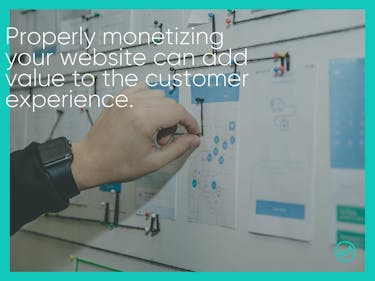 6. Open An eCommerce Store
Wondering how to monetize a website? Another method is to open an eCommerce store. 
You don't just have to sell other companies' products. You can always create your own products and sell them to your audience.
This may be a more difficult (but also potentially more rewarding) strategy. 
Before you choose this method, crunch the numbers to find out how much creating your own products will cost you, and if it's truly worth your time and money in relation to your overall business strategy. 
7. Sell eBooks
If selling physical products via eCommerce doesn't jive with you, consider selling digital products, and specifically, eBooks.
They are ideal for digital marketing — simple to make, easy to sell, and boast wide appeal. Ebooks work best for going into detail on several topics (although they usually revolve around one central theme). 
Don't worry if you're not an award-winning author –– you can always hire editors or even ghostwriters to help you out with the writing and publishing process. 
Find a great designer for the cover, and you'll be on your way to having an eBook complete and ready to offer for sale. 
If you're wondering how to monetize a website, selling eBooks is proven strategy. 
8. Add A Hire Me Page
Many entrepreneurs offer their services on their websites using a "hire me" page as an answer to the question of how to monetize a website.  
If you have valued creative or entrepreneurial skills (such as copywriting or social media marketing, for example) this is an excellent way to promote your brand and create cash flow. 
9. Consultation Services
If you're in a space where thought leadership and education are highly valued, you can offer to consult or coach. It's a step up from offering your services for hire. Plus, it can be much more profitable.
The first step is to develop a consulting system, where you need to answer these questions:
What consulting services will you provide? 
How much will you charge? 
How many consultations take place — just one, or a series of meetings? 
Next, set up a consulting page on your site. This is a dedicated page to advertise your consulting services in detail. 
This should be easy to find, and it should also be easy to contact you through the page.
10. Memberships
Many sites offer memberships that provide exclusive, premium content — such as videos, in-depth interviews and even in-depth classes — to members. 
The only way to experience that content, of course, is to pay for a membership, thus giving your revenue. 
11. Create Courses And Webinars
While educational articles are valuable, sometimes people are looking for someone to walk them through a concept. It helps too if that someone has significant experience and can offer a few valuable tips along the way. 
That's where webinars or courses come in. If you're wondering how to monetize a website, selling courses is both proven and profitable.  
Webinars
A webinar — or a seminar online — is particularly effective at generating revenue and new leads. 
Whether you want people to buy your eBook or purchase your membership, you can build interest and buzz with this method. 
As you are concocting your webinar strategy, answer questions like:
Who will want to watch the webinar? 
What value will that person gain? 
What is the best time to host it?
How can you differentiate it from other webinars in your industry? 
Choose your topic, your platform (there are many, including GoToMeeting.com/webinar) and your date and time, and then use your email list and your website to notify clients and followers.  
Courses
Creating a course requires more work than a webinar, but you can get even better results (revenue, leads) with this method. 
While a webinar may explain a topic, an online course is a deep dive into the topic and industry. Courses, also known as "masterclasses", are appealing because viewers can learn from those with significant experience in their industry. 
If you have this kind of experience and want to teach a course, you can learn how to create and sell online courses in our article "How to Turn Your Knowledge into Income: Create & Sell Online Courses".
12. Offer Podcast Subscriptions
If you love to talk and interview others, explore creating your own podcast. 
You can offer a podcast subscription that comes with exclusive content, whether that's secret episodes, behind-the-scenes videos, or members-only interviews. 
For podcasting, you need:
Good microphone (you can usually pick up a great one for about $50) 
Audio software (which you can download for free) 
A central theme for the podcast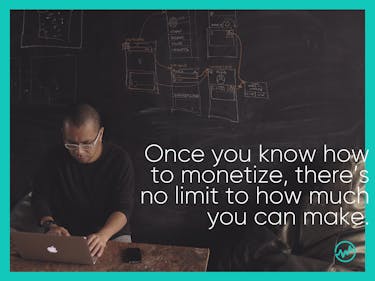 #13: Domain Flipping
Flipping a website is similar to flipping real estate. You don't receive ongoing money from your site once you sell it, but you do get a nice payout. 
When you flip a website, you typically grow the site to have value for someone else. Then the buyer considers several metrics to evaluate the value of the website:
Niche: Some subject areas are more profitable than others. For example, personal finance is more valuable than hobby websites.
Monetization strategy: If you are already using a monetization strategy, you already have evidence that the website is making money. Some strategies are more lucrative than others, like a popular course. 
Amount of traffic: Your website might not be making a lot of money, but it could be generating a lot of traffic. The right person is going to see the potential to monetize a website. (It's the equivalent of having good bones in house flipping.)
SEO: It may seem like your traffic is low, but the traffic you do have is quality. This could be because you are ranking for the right keywords on Google. Dig deep into your site's SEO before listing. 
Social Media: Is your website connected to a large following on social media? This adds value to your website because it demonstrates that you have an engaged following. 
Website flipping may not be on your radar for monetizing a website, but it is a way to make money on a site you no longer want to manage. You can also try to buy low and sell high to give it a chance. 
If you're wondering how to monetize a website, domain flipping is a proven and profitable way. 
You can learn more about it with this guide. 
#14: Collect Leads for Other Businesses
If you're looking for a way to monetize a website without ads, collecting leads for other businesses may work for your website. 
You can put a form on your site for people to fill out if they are interested in a product or service for another business. Then you can charge another company to access these leads. 
This method works well if your site is already doing sponsored posts or product reviews. You can charge for these. 
But you can also charge for each additional lead you collect for that business.
#15: Create a job or message board
The premise of this strategy is that you are getting access to your website to a job or message board. This works well if you have created a respected site in your niche — you can monetize a website that people turn to as an authority. 
You can create a job board and charge a fee to access it. If your site is the place to turn within your niche, companies will want to directly communicate with your site's visitors with their job postings. You can also charge for these employers to post on the job board. 
Message boards are also a great way to monetize your website without ads. You can charge a membership fee to access a message board on your site. People are paying to access your community when you do this. You can also do this through a Facebook or Slack Group as well. 
But the key is that your website brought this community together. 
How Much Money Can Actually You Make From A Website?
If you're wondering how to monetize a website, you may also be wondering how much money you can make from that monetization. 
The answer, as with most cases, is that it varies on multiple factors, including:
your industry 
your services and/or products 
how much work you're willing to put into monetization
To give you some benchmarks, here are some stats:
On the other hand, a site that uses affiliate marketing and has memberships can earn several thousand per month.
The thing to remember here is that there is no limit to how much you can make once you know how to monetize a website.
How To Monetize a Website: The Bottom Line
It's always a good idea to expand your online marketing skillset, and knowing how to monetize a website is one of those skills that will always come in handy. 
Once you know how to monetize a website, you can use that knowledge over and over to get the most from your site and turn your passion into a profit.