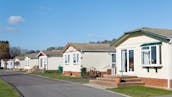 Mobile Home Investing
How To Invest in Mobile & Modular Homes
Take This Class
Your real estate portfolio may include an apartment or a house as a rental property ... but did you know that there is another form of housing you can invest in that requires a much lower financial entry point … quicker returns, and you can do it full time, part-time, or as little as you want and still earn cashflow?
Mobile homes may be the last thing you think about when investing.
But there are advantages that you can't find anywhere else, which is why many investors have mobile homes in their portfolio. Some even exclusively invest in mobile homes and mobile home parks and create passive income — and discover mobile home wealth.
There are many differences between investing in apartments or houses and mobile homes, which leads to a lack of education. This is why you may not have heard of mobile home investing before. 
Christy Ducket-Harris, a real estate investor focused on cash flow properties in mobile home parks fills this void of education in the WealthFit course Mobile Home Home Investing: How to Get Started in This Overlooked, Highly Profitable Niche.
FREE Online Class:
Get access to one of our best-selling online classes,
Mobile Home Investing
, for free today.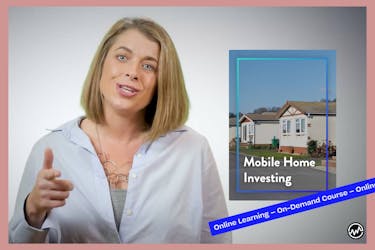 In this article, we'll explore a few of her talking points, including:
Why mobile home investing can yield incredible returns
What the mobile home purchase process is like
6 ways to profit from a single mobile home unit
how to become a mobile home investor
How to get mobile home investing leads
If you're ready to learn more, let's get started! 
Mobile Home, Manufactured Home, and Modular Home: What Are The Differences? 
First things first: what exactly is a "mobile home?" 
Before we get any further, it's important to understand the definition of it — and how it's evolved. 
Before 1953, the term 'trailer' was used to describe these types of homes. According to MobileHomeLiving, with time, these homes evolved, and in order to distinguish travel trailers and factory-built homes, the term mobile home was introduced. 
There were no federal regulations about the building standards.
In 1974, the U.S. Department of Housing and Urban Development (HUD) was designated by Congress to change this. HUD laid out the standards to ensure the quality of manufactured homes. These new federal standards regulated: 
Design and construction
Strength and durability
Transportability
Fire resistance
Energy efficiency
Overall quality
What's more: HUD mandated that on official documents, these types of homes should be called "manufactured homes," not mobile homes. 
So, "mobile homes" references homes built before these regulations, and "manufactured homes" references these types of homes built under the new standards and codes; Since then, manufactured homes have been inspected based on HUD codes.
Keep in mind that manufactured homes are different from "modular homes". Modular homes are not regulated by HUD codes; they are instead regulated the same as site-built homes.  
Even though we're technically discussing "manufactured home investing" in this article, Christy — and many in the industry — still refers to it as "mobile home investing", which is investing in a home that can be moved. 
Because of this, we will continue to refer to it as "mobile home investing" for this article.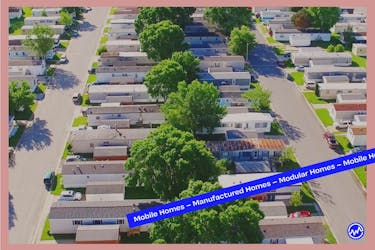 Reasons To Invest In Mobile Homes
Now that we understand the terminology, let's look at the reasons why people invest in real estate. This includes: 
Less competition
Renovation costs are lower
Low financial entry point
Mobile homes are always in demand
Investing in mobile homes can expedite your rental portfolio
Christy says that not everyone wants to live in an apartment — they may want a yard, but can't afford a house. That's where mobile homes come into play.

In the course, Christy notes that many Americans make less than $20,000 per year. People in low-income brackets deserve a nice place to live, and through mobile home investing, you can provide a nice and affordable mobile home.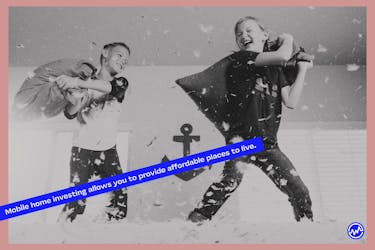 So the real question is: with all these advantages, why isn't everyone investing in mobile homes? 
Many investors simply aren't educated on how to invest in mobile homes and earn cashflow.
Next, we'll look at just that — ways to profit from a single mobile home unit. 
Disadvantages of Mobile Home Investing
Like any other investment, there are downsides to becoming a mobile home investor. It is important to consider both the pros and the cons to decide if manufactured homes are a good investment for you.
As a mobile home investor you should know that the value of a mobile home can drop to half of the purchase price in three years. 
Some people think that mobile homes are built cheaply compared to stick-built homes, although there are new construction standards in place. 
They may question its durability, and some may prefer a home with a more traditional appearance. 
These factors can affect the value of the mobile home you're investing in.
It can be challenging to get a mortgage for a mobile home. Many mobile home investors take out a personal property loan, called a "chattel" loan. 
These loans generally have a shorter term and a higher interest rate compared to a traditional mortgage. If you don't own the land for your mobile home, you are likely to have monthly costs to rent a lot.
Here is a summary of some of the disadvantages of becoming a mobile home investor.
The value will depreciate immediately
Mobile home durability questions 
Mobile home appearance
Mobile homes can be expensive to finance
Monthly lot rents can be expensive
Next, we'll look at ways to profit from a single mobile home unit.
6 Ways To Profit From A Single Unit When Mobile Home Investing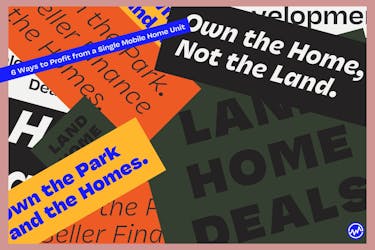 Here are 6 ways to profit from a single mobile home unit when mobile home investing, along with the advantages and disadvantages associated with the method.
As you explore each of these, keep in mind that the way to earn cashflow is simple: rent - lot rent = cash flow
1) Owning The Home, Not The Land
This happens when you either move a mobile home(s) into an existing park or buy an existing home(s) in a park.
Advantages
When you own the home but not the land, you pay rent to the park owner, and they take care of everything else, such as utilities. 
This frees up more cash flow for you. 
Disadvantages
In this scenario, moving homes can be expensive — and there are rules and fees associated with it, something we'll discuss more in-depth later on in this article. 
2) Owning The Park And The Homes
If you own the park and the homes, you have the best of both worlds. 
If you're looking to buy a park, try and find one that is already on city water or sewage. 
Advantages
In this scenario, you can collect everything, increasing your cashflow. 
Disadvantages
This option is certainly more expensive than buying a single mobile home and is a much higher barrier of entry. 
You have to maintain and do the repairs on the mobile homes as well as the park. 
3) Owning The Park, Not The Homes
Investing in mobile homes can be a full time or part-time job. Owning the park but not the homes is ideal for an investor who wants to be the latter and hands-off. 
Advantages
In this scenario, advantages include a great for distance ownership. Plus, you only have to care for the park — you don't have to worry about individual repairs for each mobile home. 
Christy notes that in her experience, she's found that many parks have not had a rent increase in some time. Raising rent is one way to increase your cash flow after buying a park. 
Disadvantages
A disadvantage is that there is less cash flow in this instance because you're only charging lot rent. 
4) Owning The Park, Seller Financing The Homes
If you own the park and seller finance the homes, it's important to have a periodic inspection written into the lease so that you can monitor your rental properties. 
Also, Christy recommends using a property management company in this scenario.
Advantages
The advantages include owning the park, selling homes on a note, and continuing to earn rent. 
Disadvantages
The disadvantages include high turnover. When someone new buys a park and update the rules, people may decide to move elsewhere, leaving empty houses or vacant lots. 
5) Land Home Deals
With a land home deal, someone borrows money from a lender, and that person makes payments to the real estate owner, or seller, until the purchase price is paid in full. This is a form of seller financing. 
6) Semi Development Deals
In semi development deals, you buy a piece of land with an old mobile home on it, replace the mobile home, and sell it as a land and home package. Typically in this scenario, utilities are already in place. 
Now that you know the ways to make a profit, let's dive into an example of a mobile home investing strategy. 
Mobile Home Investing Strategies
Your investment strategy will depend upon your real estate investing goals.
Your options include: 
Let's look at Christy's strategy that she explains in the course. 
First off, she likes to invest in older looking trailers. Why? 
You get the most bang for your buck
Small investment/low risk 
Quick return
Within older mobile homes, she prefers 3 beds, 2 baths. 
How does she decide how much to charge for rent? Her rent formula is: the rent for a 1 bedroom apartment = the rent for a 2 bedroom mobile home
In the course, Christi also explains how she's obtained older trailers for free and then renovated for a profit. 
Types of Mobile Homes and Their Cost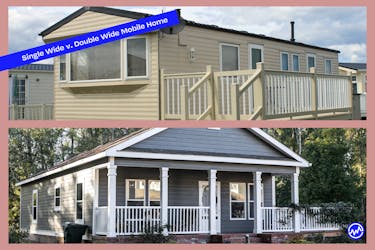 Something to incorporate in your mobile home investing strategy is which types of mobile homes you'll target. That's why it's important to understand the two different types of mobile homes. 
Singlewide vs. Doublewide
Should you invest in a singlewide or doublewide mobile home? The differences come down to two things: space and budget. 
Singlewide 
Single wide mobile homes are typically 14'-18' wide and 52'-80' long. This includes rooms, a living room, kitchen, and bathrooms. 
A brand new singlewide mobile home costs on average $63,600.
Doublewide
Double wide mobile homes range in size from 28'-36' wide and 52'-80' long. 
While a doublewide can be rented for double the occupancy and price, keep in mind that there are more expenses with it. Since the home is transported in two sections and then installed together, the moving cost is higher than a singlewide.
A new doublewide can cost on average $109,100.
Another important factor in the equation: lot rents can vary from $140 (Indiana) to $800 (Delaware).
Purchase Process for Mobile Home Investing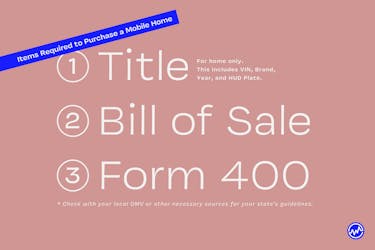 The purchase process for mobile homes is vastly different than a house or apartment.
Always check with local DMV and get the guidelines, but here are the basics, according to Christy. In order to buy a used mobile home from someone, you'll need three items: 
Title (for the home only). This includes: 
Vin
Brand
Year
HUD plate

2. Bill of sale
3. Form 400 
Contract of Purchase Issues: Titles 
When you're buying a mobile home from someone, you may run into title issues — Christy certainty has. Here are a few of those issues and how she addressed them.
"Mobile Home For Sale, But Lost Title"
If you come across a mobile home you'd like to buy, but the title is lost, here are a few questions to ask:
Is this the real answer? Is it the truth? 
Is the mobile home legal? 
Is the title simply lost or faded? 
Solution
If the mobile home is legal, and if the title is lost or faded, you can get a duplicate title from the DMV. 
"Mobile Home For Sale, No Title And Incorrect Owner" 
You may come across a mobile home for sale that has no title and an incorrect owner. 
Maybe the transaction was legal, but the new owner never did a title change. 
Solution
The solution is to find the original owner. This can be difficult; if the person has passed, you'll need to find the executor of the estate. Christy also notes that you can also try a skip trace. 
If the original owner filled out of a bill of sale but never changed the title, a bill of sale, this will suffice as proof of the transaction and ownership. 
Moving Mobile Homes
After you purchase a mobile home and have the title updated, you may need to move it. If you're moving your mobile home less than 100 miles, it can usually be done by movers for less than $5,000.
Find out the local county guidelines before you move a home. This includes: 
When you're allowed to move it
The fees associated with it
Be aware of any inspections required
Understand the installation guidelines
Mobile Home Rental Rehabbing Checklist
If you are purchasing a mobile home to rehab, ask yourself whether two important questions:
Do you want to rent or sell?  
How much money and time are you going to put into it? 
Because Christy rents mobile homes, she provides a checklist for it in the course. This includes:
Keep income bracket in mind
"Look up, look down, look all around." Examine the mobile home for leaks
Don't put in carpet
Think longevity
Check out neighbors
Try used appliances
Find a contractor who specializes in mobile homes
Mobile Home Investing Red Flags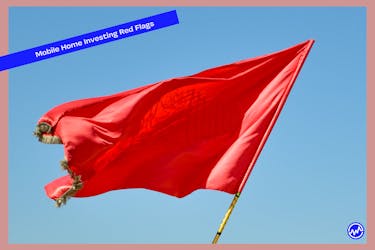 As a mobile home investor looking to build mobile home wealth, you should know if any given mobile home is a good investment.  
One way to determine if you are buying the right mobile home is to look for red flags that point to problems.
Water damage is a big repair, and it can occur in both new and used mobile homes. When you inspect the roof, look for low points and exposed underlining. If the air conditioner cover is broken, there may be issues with the unit. 
Also, look at the tire treads and the manufacture date. The four-digit number tells you the week and the year it was made. For example, the number 2920 means the tire was made on the 29th day of the year 2020.
If you see red flags, consider looking at a different mobile home for your investment. Here are some things you can do to see if there are any red flags and avoid problems:
Check for water damage
Take a look at the roof 
Make sure the air conditioner cover is intact
Find out the tread and age of the tires
Look at the floors for damage
If you see any of these red flags, you can find another mobile home for investment or negotiate with the seller to drop the asking price.
Mobile Home Investing Leads
If mobile home investing is a niche you'd like to begin, how can you get leads?
The first step is to visit a few parks and get more familiar with the industry. 
The name of the game is connections: the mobile home investing business is one on one, especially if you're dealing with an older seller. While direct mail may work in other types of investing niches, it usually doesn't work with mobile homes, according to Christy. 
She recommends visiting the following places to network, build rapport, and eventually obtain leads: 
Mobile Home repo lots
Mobile Home inspectors
Mobile home movers
Mobile home parts stores 
By being known as someone who buys mobile homes, Christy has received incredible deals when people and agents thought of her. If you build relationships with these agents, she says, they'll think of you first. 
She also says looking for leads on:
Facebook Groups
Craigslist
Once you obtain these leads, utilize a seller call sheet, which is a free handout provided in the course.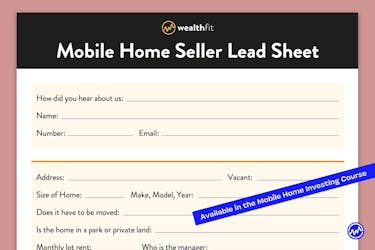 Next Steps: Mobile Home Investing
If you'd like to take advantage of mobile home investing and experience mobile home wealth, or if you are already doing so, but you'd like to dive deeper into Christy's unique strategy, watch Mobile Home Home Investing: How to Get Started in This Overlooked, Highly Profitable Niche where Christy breaks down how mobile homes can build your portfolio, what to look for, and why now is the right time to begin investing. 
Continue Your Education: Mobile Home Investing
Mobile homes aren't the only investing tool in real estate. They are several ways, each with their own advantages. If you want to learn more about real estate investing, here are a few free resources: