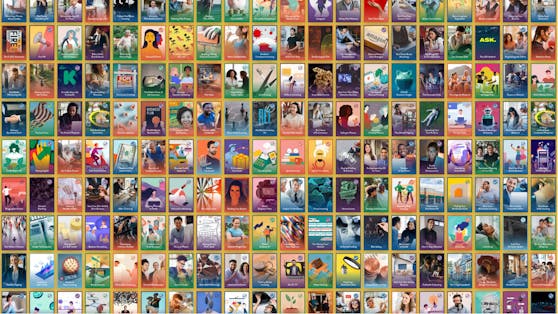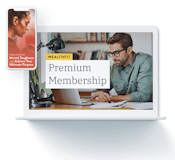 Get Access to 250+ Online Classes
Learn directly from the world's top investors & entrepreneurs.
Get Started Now
There's more to Instagram than just selfies. With over a billion users, Instagram is one of the most popular social media platforms. There are many ways to make a significant amount of income from the app for your business — if you know how to monetize Instagram.
Whether you're already using instagram for business or you haven't started, there are unique ways to take advantage of the app and increase your income. 
This is the subject of the 8-part course "Instagreat: How To Launch a Buzzworthy Business Brand on Instagram", taught by Kim Walsh Phillips.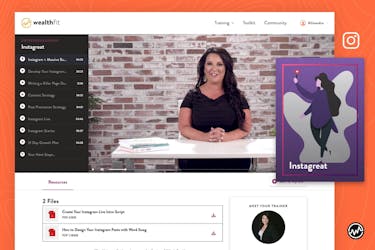 Kim, whose social account boasts more than 10,000 followers, is also the author of "Instagram for Business."  
In this article, we'll discuss a few of her powerful lessons, including:
Why Instagram is an incredible business opportunity 
3 things you should do before you monetize your Instagram account
How to supercharge your bio link
7 specific ways for you to monetize Instagram
If you're ready to learn more about Instagram for business and how to monetize Instagram, let's get started! 
Instagram Is A Business Opportunity 
Instagram boasts many advantages for business owners that other social networks don't have. Here are a few statics that show how advantageous Instagram's is:
Instagram has 10x the consumer usage and brand engagement than any other social platform 
 ⅓ of all online shoppers are using social media channels to browse new items to buy
75% of users have taken some type of action after viewing an ad on Instagram
Instagram allows users to shop and pay for items inside the app
Consumers are more likely trust brands if they see them on Instagram
Before You Monetize Instagram…
You want to know how to monetize Instagram — but first, you need to ensure your account has a solid foundation. 
Keep in mind that the dangers of skipping this step can lead to missed opportunities in the future. 
Before you monetize your Instagram page, or before you do a big follower push, you need to do these three things: 
Develop your Instagram brand 
Write a killer page description 
Build your following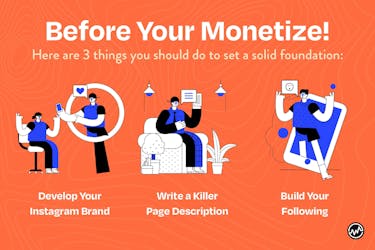 We'll look at how to do each one in depth next.
Develop Your Instagram Brand
What is your current Instagram brand?
If you aren't exactly sure, it's time to develop your brand. Your brand should maintain consistency in the following ways:
look 
feel 
messaging or tone 
One exercise that Kim recommends in the "Instagreat" course is to find 10 Instagram accounts who maintain strict branding guidelines and use them as models, references, or sources of inspiration.
Write A Killer Page Description
What does your page description look like? 
Is it easy to understand your brand and your services when someone new views your account?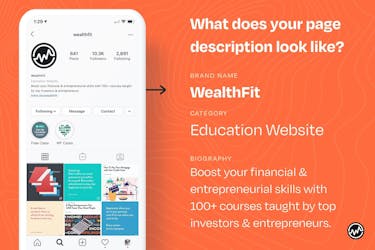 Ensure that your bio, slogan, or other words describing what you do are easy to read and understand. 
With Instagram, you only have one opportunity to provide a click through link in your about section — the "bio link".
In the course, Kim explains that you shouldn't just offer a link to your website; instead, offer what she calls a juicy carrot, or anything that will attract as many "bunnies", or consumers, to your offer. 
A juicy carrot can be:
webinar 
seminar 
opt ins 
lead magnet
templates 
or other unique guides 
Build Your Following: How Many Followers Do You Need To Monetize Instagram?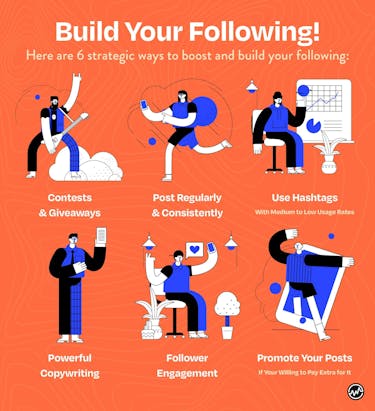 The truth is that there is no specific answer to "how many followers do you need to monetize Instagram". Here's an example:
Which would you rather have: 10,000 followers who are not highly engaged in your content or 5,000 followers who are highly engaged in your content? 
The latter will result in more engagements, more impressions, and in the end, more sales. 
So how can you build your following? Here are a few strategic ways.
Contests
Contests are a simple and creative way to:
gain more followers
build your email list
make more sales  
Once you have a giveaway item in mind, such as one of your products, you can choose from one of the following contest formats. 
Keep in mind that you can combine them to make your contest unique. 
Like to win: with this format, simply liking a post serves as entrance into the contest. 
Like and follow: users must like your post and follow your account for entrance.
Tag: with this type of contest, users must tag others in the comment section. For example, if you require "3 people tagged for entrance", those tagged are more likely to see the contest, your account, and your business, thus increasing your exposure. 
Hashtag-generated: in order to enter this type of contest, users must use specific hashtags. 
Email request: users can enter this type of contest by providing their email address via your bio link, thus increasing your email list. 
Post Regularly
Many business owners often wonder the question "how much should I be posting?"
Kim recommends posting 1.5 times per day or 3 posts over a 2 day period, though this isn't set in stone. 
You can post more. Either way, ensure that you're regularly posting content so that your business and its products are consistently being shown to your audience. 
Use Hashtags
Kim says that you can't use Instagram for business without hashtags. 
Using even 1 hashtag can improve engagement by as much as 13%. 
Instagram currently allows 30 hashtags, so feel free to use that many in the post. You can use free hashtag generators to expedite the process as well. 
Pro Tip
Some hashtags have been used millions of times. Because of this, don't use just any hashtag. Find hashtags with a medium to low quantity and use those. 
By doing so, you're giving your content a better chance of standing out among the crowd.
Write Powerful Copy
How should you write your captions? 
Kim explains that the best format is to open up with a story about yourself — she calls it the "grand entrance". 
She also recommends:
Create a curiosity gap. Pull people into the post by creating curiosity. 
Incorporate emojis in your post, because they are visually appealing and create a lighthearted tone.
Ask for comments in the post (for example: what do you think about….?) so that you can increase your engagement and continue the conversation
Engage with Followers
Ensure that you are engaging with your followers in the comment section and continuing the conversation about your brand. 
Promote Your Posts
Similar to Facebook, you can promote your Instagram business posts to a wider audience — if you're willing to pay extra for it.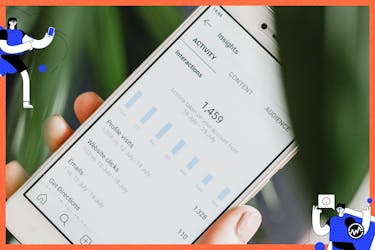 Instagram Upgrades To Utilize
There are ways to make Instagram for business easier to manage — if you have the right tools. This includes: 
Using scheduling apps
Upgrading your bio link
We'll look at each one in depth next. 
Scheduling Apps
Posting every day or even multiple times per day can become time consuming. 
Luckly, there is software that allows you to schedule your posts weeks ahead of time, such as:
Upgrade Your Bio Link
As we discussed before, your bio link only offers one link. 
But some tools direct users to a landing page that then has multiple links to choose from. This turns your bio link from one link to many. Here are a few applications: 
Types of Media Within Instagram 
There's more to Instagram than just posting an image. In fact, there are several different mediums that you can use within the app to sell products for your business. 
Instagram Post 
An Instagram post simply includes a photo and a caption. It's easy to track the engagement, products can be tagged easily, and it can be promoted as an Instagram story. 
Instagram Slideshow
With an Instagram slideshow, you aren't confined to a single photo; instead, this function allows multiple photos and increases your ability to tell a story or show a product. A maximum of 10 photos are allowed. 
Instagram Video
WIth a maximum of time of 60 seconds, an Instagram video allows you to get creative with your post and incorporate your voice and/or music.
Instagram Stories 
Up to 15 seconds long, Instagram stories are another medium that business owners can take advantage of. If your account has a following of 10,000, you can also utilize the "swipe up" feature, where the user will be directed to a landing page that you choose when you create the post.
IGTV
IGTV is another option for business owners that allows longer form videos. The requirements for IGTV are:
the video must be at least one minute long. 
the maximum length your video can be is: 15 minutes when uploading from a mobile device and 60 minutes when uploading from the web
Now that we've broken down the basics of Instagram, along with ways to improve your profile and your following, let's look at how to monetize instagram for your business. 
How To Monetize Instagram: 7 Ways
#1: Sponsored Posts
The most simple route to monetize your Instagram account is sponsored posts, though there is a high barrier for entry: you'll likely need thousands of highly engaging followers. 
How powerful are sponsored posts?
Eight out of ten consumers made a direct purchase based on a recommendation by an influencer.
There are two ways to use this monetization method: 
Directly Pitch A Brand
In this scenario, you can reach out to a brand with a press kit explaining your background, your following, and your rates. 
How much should you charge? The average pricing model utilizes this formula:
$100 x 10,000 followers + extras = total rate
Use An Influencer Marketing Platform 
Instead of pitching a brand, you can also use an influencer marketing platform, which serves as the middleman between influencers and brands. 
Here are a few of these platforms: 
#2: Use Instagram Shopping
You can use Instagram Shopping to highlight products in your Instagram posts and use specific links to take potential customers to your checkout page.
Here's how it works.
How To Use Instagram Shopping
The first step is to create a Facebook Business account. 
Next, connect your Instagram business profile to a Facebook catalo (you can read more about a Facebook catalog here).
After that, log onto Instagram and upload either:
an image
carousel 
video post 
Keep in mind that you can feature up to five products per image or video post, and up 20 products on multi-image (carousel) posts. 
When someone taps a "Shopping Tag" on your post, they'll be taken to a product description page where they will see: 
an image of the product from your post 
a product description
the cost of the product
a link that takes them directly to your website where they can purchase the product
Keep in mind that you can add shopping tags to old posts on your business profile.
#3: Affiliate Marketing
With affiliate marketing, you make money when your followers buy a product that you're promoting. It's that simple. 
Here's how it works: in a post, you recommend one of your favorite products. This can take the form of a product review. You provide:
a link to buy the product 
a promo code 
Both the link and promo code are specific and unique to you, so the merchant can track sales back to your efforts. 
When someone makes a purchase using your link and/or promo code, you earn a percentage for every sale.
There are two ways that you can use affiliate marketing to monetize your Instagram business account:
Affiliate With A Brand Directly
When you pitch brands, ensure that you provide a press kit and explain what you can bring to the table.
Join An Affiliate Network
There are affiliate networks that you can join. This includes:
#4: Product Placements 
If you're looking for a creative way to monetize Instagram, try video product placements. 
A product placement is a method of hidden advertising. Essentially, a product is used creatively and mentioned in a post, video or story — but it's not a direct advertisement.
This can lead users to look to buy the product that you are either selling or that you're promoting. 
#5: Instagram Shopping Stories
You can feature a product and/or service on your Instagram stories using the shopping sticker and provide a "swipe up" link that takes users directly to a landing page of your choice.  
#6: Teach What You Know 
Are you an author, speaker, or an expert in a particular field? 
You can teach what you know to others for profit by creating online classes, webinars, or seminars. Plus, you can use your bio link as the signup page. 
If you'd like to learn more about creating and selling courses, here is a guide.
Bonus: IGTV Ads 
Instagram announced that they will begin running video ads on IGTV videos and share 55% of the resulting revenue with the video's creator. 
However, many sources say that this will remain in testing in 2020, and be available in 2021. 
Until then, focus on any of the other ways to monetize your Instagram business account and continue to build your following.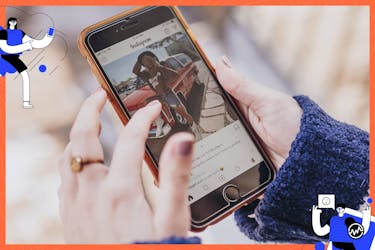 How To Monetize Instagram
If you're ready to capitalize on Instagram, win new customers, and monetize Instagram, take Kim's 8-part course "Instagreat: How To Launch a Buzzworthy Business Brand on Instagram".
In this course, you'll learn step-by-step:
How to create a killer bio that makes your profile irresistible to target customers
How to plan and promote live broadcasts that sell products and build your following
A specific 21-day growth plan for multiplying your follower count, your post engagement, and — most importantly — your sales over the next 3 weeks
… and a whole lot more!
Continued Learning
Now that you know how to monetize Instagram for your business, here are a few additional (and free) resources to help you grow your business in other ways: