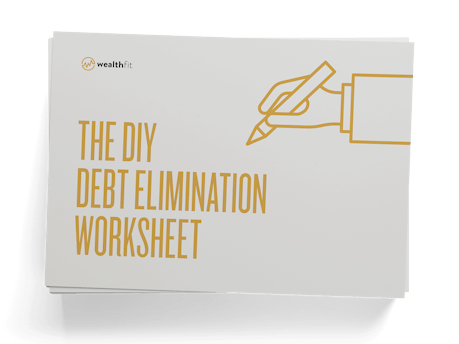 Free Download
DIY Debt Elimination Worksheet
When you're facing a medical emergency, you're focused on getting the help you need and improving your health — the last thing on your mind is how you're going to pay for it.
When your medical issue is taken care of, the bills start to come. That's when reality then sets in. 
If the bill is more than your emergency fund and you don't have a surplus of cash on hand, it turns into medical debt — 72 million people in America have this form of debt and need medical debt relief.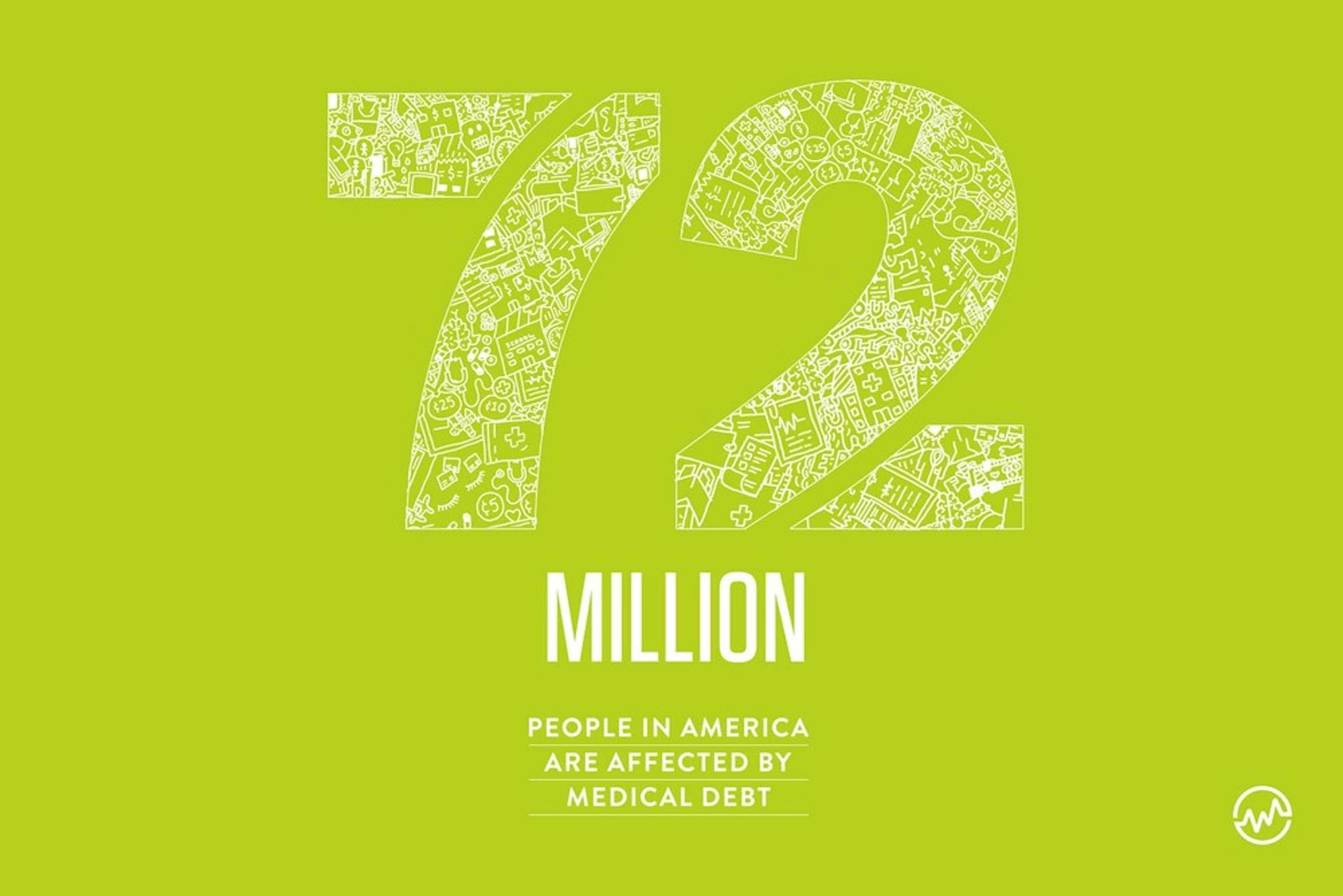 Racking up medical debt can happen in more ways and faster than you'd imagine. What can happen in a few seconds — a fall, a car accident, a sudden pain — can take years to repay.
It can take years to get your personal finances in order as well.
Thankfully, there are organizations that help pay medical bills if you've fallen into this challenging situation.
Before we explain these organizations that help pay medical bills, let's explore how Americans fall into medical debt. 
Free Download:
"DIY Debt Elimination Worksheet"
Download Now
How People Fall Into Medical Debt
You can end up racking up medical debt in quite a few ways:
No Health Insurance
Emergency Room Visits
Hospitalization 
We'll explore each one in-depth next. 
No Health Insurance
One of the quickest ways to rack up medical debt is to have no health insurance, which covers you in the event of a medical need. 
Although there is no longer a federal penalty for not having insurance, you run the risk of being on the hook for any sudden or planned medical needs, which can be hundreds of thousands of dollars. After all, accidents aren't planned. 
Even though many providers offer self-pay discounts, which can reduce the outrageous initial price tag of medical bills but may still leave you with a hefty bill you can't afford to pay, there are little to no pros when weighing whether or not you should have health insurance. 
Saving money each month by not paying for health insurance won't equate to more than the thousands of dollars that health emergencies can cost. 
If you currently don't have health insurance, here are a few options so that you can obtain coverage.
COBRA
If you have been recently unemployed, The Consolidated Omnibus Budget Reconciliation Act (COBRA) is a federal law that allows you to stay on your employee health insurance after your job ends, usually for 18 months — if you pay the full premium yourself. 
For more information on COBRA, click here. 
Medicaid
A program funded by the states and the federal government, Medicaid provides health coverage to low-income adults, children, pregnant women, elderly adults and people with disabilities. 
To find out if you're eligible, you'll need to provide:
How many people are in your household?
 What state do you live in?
What is your estimated income for 2020?
To find out if you are eligible, click here. 
Marketplace Health Insurance
You can purchase affordable insurance on the government-provided marketplace. 
To explore this option, visit HealthCare.Gov.
Private Health Care Plans 
You also have the option to purchase private health insurance directly from an insurer in your area. 
Not only will having health insurance financially protect you in the event of an emergency or accident — you can rest easy and stress less knowing that you won't have to foot an enormous bill because of an unforeseen circumstance. 
Emergency Room Visits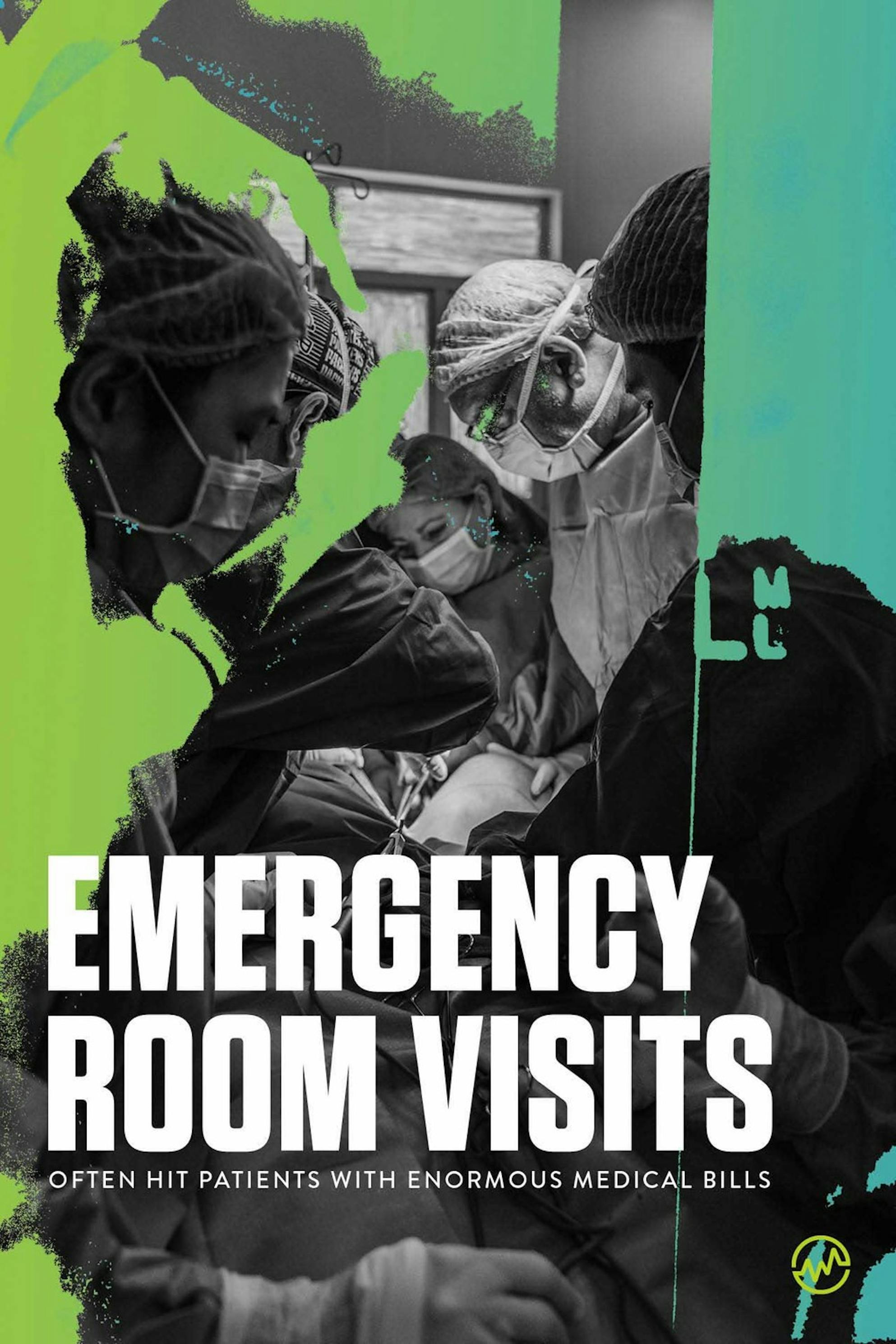 Emergency room visits often result in steep medical bills. After you are discharged, the hospital will bill you for medicine, procedures and their services. Then, doctors often bill for their expertise separate from the hospital. 
If you're visiting for a true emergency, lab tests or other procedures may have to be done. These add even more costs. 
It's not uncommon to leave the emergency room and then get hit with many bills in the thousands of dollars — and need medical debt relief.
If your medical situation isn't critical, visit a general doctor or an urgent clinic. Doing so may take more time before you can see a doctor, but both of these options will be far cheaper in the long run. 
Hospitalization
If you end up getting admitted to the hospital for any reason, your bill will skyrocket. Then, you may need medical debt relief. 
Everything is vastly more expensive in the hospital — a study found these alarming costs:
Tylenol billed as $15 per individual pill (a supply of 50 tablets costs $13)
a medicine cup billed as $10 (medicine cups can be bought for under $5.00)
a bag to hold your personal items — like a grocery bag — cost upwards of $8 (plastic bags can be purchased for 2-5 cents)
Hospitals charge daily rates for use of a room, too. These rates blow almost any nightly hotel rate out of the water. 
Then, add in costs for supplies, medications, lab work, and doctor consultations — you're already in the tens of thousands of dollars, if not more. 
It's easy to see how you could end up in medical debt quickly.
Organizations That Help Pay Medical Bills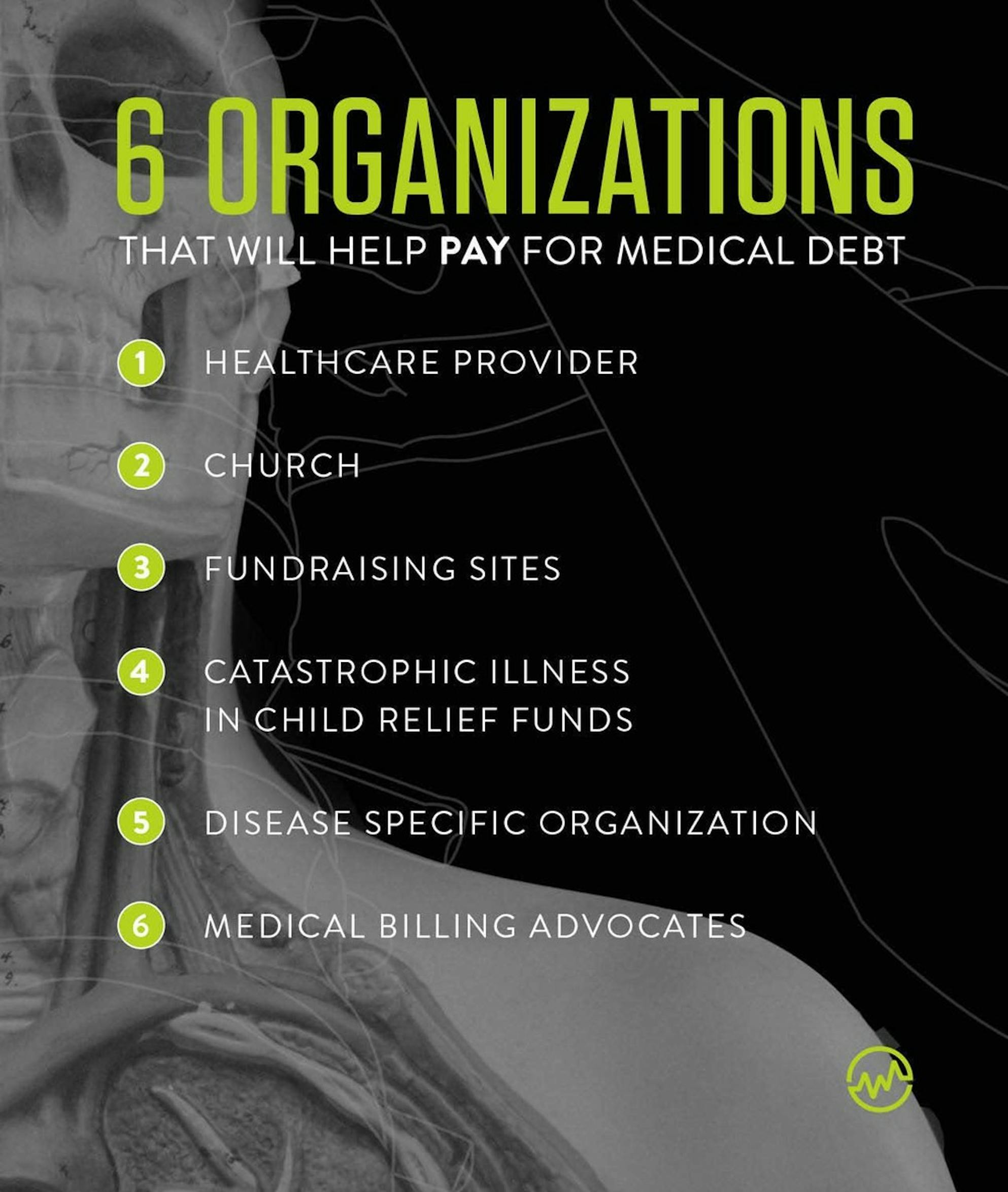 If you've fallen into medical debt and need medical debt relief, consider the following organizations that help pay medical bills. 
Healthcare Providers Such as Your Hospital
Healthcare providers won't pay your medical bills for you, but they do have the power to reduce or completely drop them.
If you're having trouble paying your medical bills, call your healthcare provider. Be straightforward. Ask if they can reduce the bill or completely get rid of the bill.
If that doesn't work, explain your financial situation. Then, ask if they have a department you could speak with that could help. Since some medical providers are non-profits, these providers may be able to help you with your medical debt in certain situations. 
One example of this is National Jewish Healthcare, a nonprofit healthcare company. They offer financial help for health care services received at their locations. 
You must meet requirements based on the following to qualify:
Income
Family size
Assets 
Other issues
If you can't get your bill reduced or eliminated, ask about payment plans. Your provider may offer low or no interest payment plans, which can save you cash in the long run.
These can help providers obtain some of the money they're owed and helps you spread out the payments.
Church
If you're facing a major medical emergency, it can't hurt to ask your church for help. A church may be able to set up a fundraiser, which can help cover some or all of the cost of your medical bills. 
If your church has a wide reach, the congregation could help rally the community behind your cause. A larger community can lead to more help to escape from your medical debt.
Fundraising Sites Like GoFundMe
Your church isn't your only option for fundraising to help pay medical bills. You can set up a fundraiser on sites such as GoFundMe. 
There are many of these fundraising sites online, and you can find the one that best fits your needs. Remember that each site charges for their services in different ways. 
No matter which platform you choose, you'll need to get your story out there that way people can learn about your situation. Craft a sincere and compelling reason why they should donate—this can help your story stand out. 
If you get enough people to help, it could cover a chunk or the entire cost of your medical debt.
Catastrophic Illness in Children Relief Funds
Some states even offer Catastrophic Illness in Children Relief Funds. These include Massachusetts and New Jersey. 
Each state's program may work differently. Check to see if your state offers a similar fund. 
Disease-Specific Organizations
Some organizations offer help to pay medical bills that are related to specific illnesses. Here are a few examples.
The HealthWell Foundation
The HealthWell Foundation might be able to help you pay your medical bills. In particular, they provide financial assistance for the following:
Prescription co-pays
Health insurance premiums, deductible, and coinsurance
Pediatric treatment costs
Travel costs
To qualify, you need to:
Receive treatment in the United States
Have a household income of no more than 400 to 500 percent of the federal poverty level
Have some form of health insurance
Have an illness or disease covered by a HealthWell Disease Fund
Have your medication be listed under the applicable HealthWell Disease Fund
The Leukemia & Lymphoma Society
The Leukemia & Lymphoma Society offers many programs to help pay for medical bills. They can help with co-pay assistance for prescription drugs, travel assistance and more. 
They also offer resources that can help with your medical debt. Be sure to check out their free booklet about Cancer and Your Finances.
The PAN (Patient Access Network) Foundation
Another option for organizations that help pay medical bills: The PAN Foundation focuses on removing financial barriers to medications and treatments essential for care. 
They offer nearly 70 programs tailored to specific diseases. 
These programs can help pay for out-of-pocket costs, travel expenses, and health insurance premiums. Check out their list of programs on their website to see if they can help with your medical debt.
The CancerCare Co-Payment Assistance Foundation
The CancerCare Co-Payment Assistance Foundation aims to help people with cancer make their co-payments for chemotherapy and other targeted treatments. 
They have a list of particular cancers they are accepting assistance applications for. You can find out if you qualify after selecting a specific cancer diagnosis on their Covered Diagnoses chart.
They may not currently have funding for your specific cancer diagnosis. In this case, their co-payment specialists may be able to help. They can provide information about other resources that may be able to help.
Medical Billing Advocates
Medical billing advocates won't pay your medical bills for you, but they can help get your bills reduced. 
These advocates know medical billing inside out. They can spot medical billing errors you might not catch yourself. Additionally, they may know what billing items can be negotiated to lower prices than what you've been billed.
A billing advocate that reduces your medical bills essentially reduces your medical debt. Unfortunately, billing advocates often charge for their services, and sometimes, they can be expensive. 
However, you may be able to find free assistance through your workplace's benefits program. Another option could be through charitable organizations like the Patient Advocate Foundation.
Preventive Strategies To Put Your Health First: 4 Strategies 
While you can't control an accident or a medical emergency, you can take preventive measures so that a long term disease doesn't land you in the hospital — and give you significant bills. That's why it's critical that you get and stay healthy. 
Here are a few ways to do just that. 
Stress Less
Are you constantly stressed? A recent Gallup poll found that more than half of Americans — 55% — admit to feeling stress during the day. 
Stress is dangerous. It can lead to:
weight gain
decreased immunity
Fatigue
chronic illness and/or disease
To learn more about stressing less, here are some strategies that you can begin using immediately. 
Diet
What you eat affects your weight, mood, and health.
Poor eating can lead to chronic illness and diseases, such as heart disease. 
If you've tried to eat healthily and failed, you're not alone. Diets aren't sustainable long term, and this is the #1 reason why diets fail. 
The problem is not about dropping pounds; it's about learning how to stick to a diet that works for your lifestyle so that the weight doesn't come back. 
There is a way to diet the right way — creating a diet that's best for you based on your health and your personality. 
Learn more about this diet strategy by reading this ultimate guide. 
Exercise
Getting in shape can help prevent long term health issues.
You don't need a gym membership to do so. You can create your own workout plan. Here's how to do just that. 
Medical Debt Relief: Organizations That Help Pay Medical Bills
Now that you're aware of some of these organizations that help pay medical bills, it's time to take action and get medical debt relief.
Reach out to the organizations that could help you with your specific situation. Follow up to make sure you've provided all of the necessary information to request help. 
Also, ensure that you are putting your health first to avoid future medical issues that may require thousands of dollars in bills.  
Remember in the future that if your medical condition isn't critical, you do have options when it comes to seeking treatment.
If a hospital stay is unavoidable though, remember that you do have options — such as these organizations that help pay medical bills — with helping to pay off medical debt. 
Special WealthFit Offer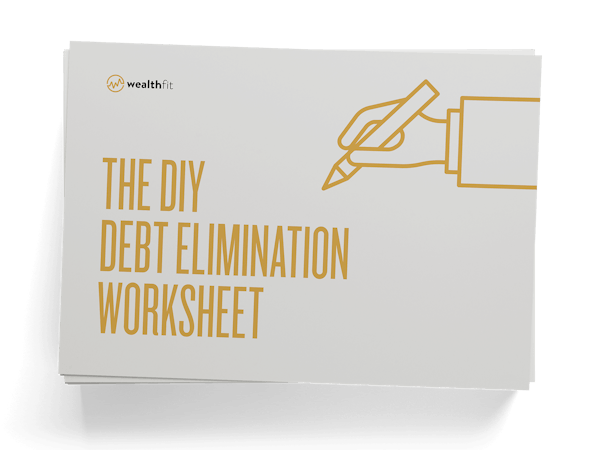 Free Download
DIY Debt Elimination Worksheet
Continued Learning
Now that you know how to utilize organizations that help pay medical bills and get medical debt relief, consider paying off other debt that you may have: