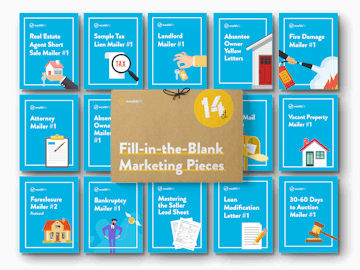 14 Fill-in-the-Blank Marketing Pieces
Are you looking for proven ways to build your real estate business? 
To gain more knowledge, to get more leads, and find more "hidden gem" properties? 
There is a powerful and proven tactic that puts investment properties directly in front of prospective buyers. It also creates connections and builds reputation with potential sellers.
Even better, this tactic won't blow up your budget. 
Real estate mailers are a time tested way to make contact with countless potential buyers or sellers.
Whether you have never used real estate mailers before, or you are looking to update your current real estate mailer, this article will help you create a real estate mailer strategy so that you can grow your real estate business. 
Free Download:
"14 Fill-in-the-Blank Marketing Pieces"
Download Now
How Can a Real Estate Mailer Help My Business?
When you wrote up the business plan for your real estate investing business, you undoubtedly planned for advertising in your budget. 
Real estate mailers — ranging from newsletters that discuss multiple properties to postcards that highlight one particular investment property — provide a reliable yet affordable method of advertising your services as an investor. 
If you have properties on the market, a real estate mailer can provide another way to advertise them to potential buyers. 
If you're looking for new properties to buy as a real estate investor, your real estate mailer can create a point of contact between you and a potential seller. 
The point of advertising goes beyond buying or selling a single property. Advertising for real estate investors is about creating a brand that people think of when they are looking to buy or sell a property. 
A consistent direct mail campaign allows you to build a brand that potential clients will think of when they start thinking about making a real estate transaction.
Developing a Real Estate Mailer Strategy
As is the case with any sort of advertising campaign, the first — and most important — aspect is to create a strategy. 
Who Should I Send the Mailer To?
This question is best answered by looking at the results you're hoping to achieve with your real estate mailer. Ask yourself "what type of property do I want to invest in?"  
If you're looking for family homes, you should send real estate mailers to homeowners in the homes and neighborhoods where you would like to invest. 
If you're focusing on foreclosure investing, you should send letters or postcards to owners of homes that are in pre-foreclosure to find the most motivated sellers. 
How Often Should I Send My Mailer?
Industry professionals typically advise that real estate mailers should be sent out once monthly. 
If you don't send out at least one update a month, you may not be doing enough to build your brand recognition among potential clientele. Anything more than once a month, and you're probably spending more on real estate mailers than you're generating. 
Try to get your real estate mailers in the mail at the same time every month to create a consistent marketing campaign. 
What Should My Real Estate Mailer Include?
As is the case with all marketing decisions, the content of your real estate mailer depends on what you're hoping to achieve. 
If you focus on a specific type of real estate investing, such as probate investing, fix & flip properties or mobile home investing, highlight that.
If you're a cash investor, be sure to highlight that fact. 
If you're marketing a property that you own to potential buyers, include high quality photography and information that sets your property apart from other properties in the same market.
Ensure that whatever your business focuses on is immediately obvious.
How Do I Track the Success of My Direct Mail Campaign?
There are many ways to track real estate mailers in a direct mail campaign. One tracking method includes setting up a dedicated toll-free phone number that people can only get from your real estate mailer. 
You can also create a similar tracking method through a trackable URL. 
While some people may contact you directly based on your mailer, most people who are interested will probably start with something non-committal, such as a visit to a website or a toll-free phone call.
Real Estate Mailers
Direct mail campaigns give you the opportunity to put your real estate investment business directly in front of the clients — of your choosing. 
This increased control, combined with affordability, makes direct mail one of the greatest tools that a real estate investor can have at his or her disposal. 
Knowing how to better utilize this tried-and-true advertising method can help take your investment business to the next level.