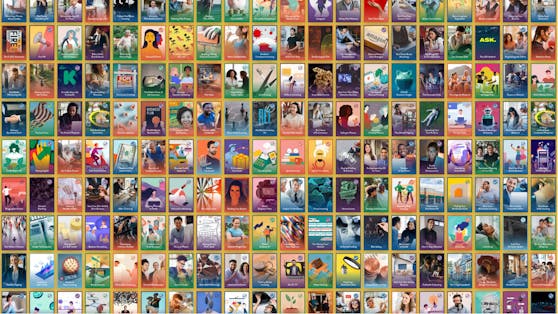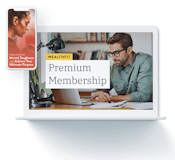 Get Access to 250+ Online Classes
Learn directly from the world's top investors & entrepreneurs.
Get Started Now
As a business owner, you know social media is important. But surprisingly, one of the most important parts of your online presence has nothing to do with social media. This one technique is easy, free, and insanely effective, allowing you to optimize your online reach. The secret? Managing your Google My Business listing.
If the phrase "Google My Business" doesn't ring a bell, you might think it's a command for Siri or just searching your business on Google. But even if you don't recognize it, you've seen Google My Business in action before.
Google My Business listings are those little previews that appear on the right hand side of the search results page when you look up a local business. Here's an example: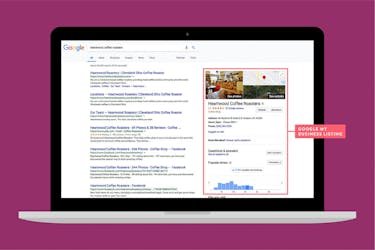 The importance of these little listings often gets overshadowed by lumbering social media giants like Facebook. Everybody tells you to set up a Facebook . . . and a Twitter . . . and an Instagram . . . but you probably haven't had anyone tell you to set up a Google My Business listing yet.
That's a problem.
Social media can definitely be a huge boost for your brand but your Google business listing is one of the most crucial elements of your entire online presence. Every small business needs one. Even yours.
Why Google My Business Listings Are So Important
In 2017, 97 percent of consumers searched for local businesses online. Let that sink in for a moment. 97 percent of consumers. And we'll wager the other 3 percent is made up of your grandma and her friends, who probably don't know how to use Google. Local searches are huge.
And it isn't just searches. Local searches have astounding conversion rates. 88 percent of people who search for a business online call or visit within 24 hours.
If your business is highly visible in Google's search results, you'll probably enjoy a nice uptick in patronage. And conveniently, you can maximize your search result visibility by managing your Google business listing. That means your business will show up more in local results, leading more people to see (and visit) your business.
Your Google My Business listing will also add your business to Google Maps and other directories like Yelp. Tons of people turn to Google Maps to find businesses. Some even skip regular old Google completely and head straight to their Maps. Unless you love giving weird verbal directions over the phone, your small business needs to be on Google Maps—and claiming a business listing will ensure your business is added to the directory.
You might not think a Google listing applies to your company if you do all of your business online. You'd be wrong. Believe it or not, you can still benefit from a Google My Business listing. You don't even need to have a physical address to display a listing (although you do need to provide one during your registration).
The bottom line is that a listing will turbo-charge your online presence and often lead to real-world interactions. So whether your small business needs better SEO or more walk-ins (or both), these listings will help you get there.
Claim and Manage Your Listing
The first step is to claim your business listing. This is super simple. Just head to google.com/business and click the big green button that says "Manage Now." The site will walk you through all the steps to set up your listing. You'll be asked for all the basic info: your business name, address, category, phone number, and website domain.
Next, you'll be asked to verify your business. This is important. Every small business must be verified if they want access to the benefits Google My Business has to offer. Some of these benefits include:
●      Lists your business on Google Search and Maps
●      Gives you access to business analytics
●      Allows you to respond to customer reviews
●      Allows you to promote your business via posts and photos
In most cases, Google will verify your business by sending a postcard to the address you provide. This is the most painstaking part of the entire painless process, as it takes 1-2 weeks to receive the postcard. You'll enter a code found on the postcard to complete your verification and unlock all of the above benefits.
Depending on the type of business you operate, you may have different verification options. In some cases, you'll be able to verify by phone or email. And if your business has 10 or more locations, you can take advantage of bulk verification. However, most small business owners will have to get their verification via snail mail.
Once you've finished setting everything up, you'll be granted access to your Google My Business page (even if you haven't verified yet). It will look something like this: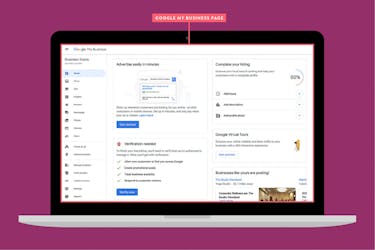 There's also a handy sidebar with more options: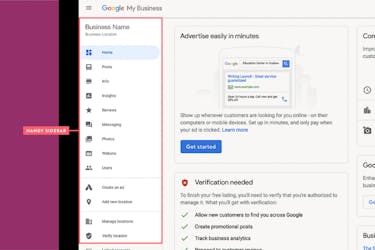 This is where you can add more details about your business, manage locations, respond to reviews, add co-founders, and much more. You can even create special discounts that only appear on your business listing!
You'll need to exhibit some self-control now. Once your verification postcard has been sent out, do not edit your details until you receive it and enter the code. Google warns that this may delay the verification process further.
Once you're verified, you'll be able to manage your listing. Of course, you don't have to—you can technically set it and forget it. However, it's best to update your listing whenever a new change occurs. If you receive customer reviews, it's also a good idea to respond to those. Customers love it when a business owner personally responds to their praises or complaints.
Really, the most important part of a Google business listing is having one. It's a simple and free marketing technique that can do wonders for your small business. People will find your business more easily and interact with it more frequently. One small listing can make a huge difference.
Maximize Your Reach With Google My Business
In this age of social media frenzy, a humble Google business listing can look like an ad in the White Pages by comparison.
While it's not as hyped up as social media, a Google My Business listing really is one of the best things you can do for your small business. You'll need one to get the most out of your online presence.
Take a few moments and set up a listing. It's free, fast, and easy. You seriously can't go wrong.