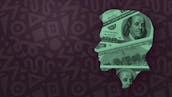 Idea To Income
How To Start a Company and Turn Your Entrepreneurial Dreams into Reality
Take This Class
Every idea starts with someone looking to solve a prroblem.
For the founders of Warby Parker, the problem was the high cost of prescription glasses. Looking at the industry, they found that the eyewear was dominated by a single company, keeping prices inflated. 
In 2010, Warby Parker was founded as a way to create an alternative retail channel. They also saw another problem.
They realized that billions of people around the world needed glasses but didn't have access to them (2.5 billion people, to be specific). Of these, 624 million cannot effectively learn or work due to the severity of their visual impairment.
Warby Parker launched a program called "Buy a Pair, Give a Pair" to ensure that for every pair of glasses sold, a pair was and still is distributed to someone in need.
Today, over five million pairs of glasses have been distributed through their Buy a Pair, Give a Pair program.
This is just one example of how companies and organizations around the world are solving problems for the greater good — something called social entrepreneurship. 
In this article, we'll take a look at:
what social entrepreneurship is
how social entrepreneurship works and its increasing relevancy 
explore specific social entrepreneurship ideas 
help you find out if this industry is right for you
Let's get started! 
FREE Online Class:
Get access to one of our best-selling online classes,
Idea To Income
, for free today.
What is Social Entrepreneurship?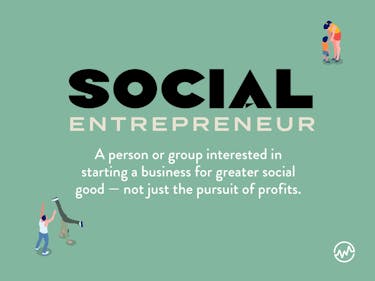 Social entrepreneurship is a buzzy word, so let's break down the concept. 
By definition, a social entrepreneur is a person or group interested in starting a business for greater social good — not just the pursuit of profits. 
While earning a profit is top of mind for many entrepreneurs, social entrepreneurship ideas are unique in that they combine the foundations of best business practices with a desire to make a positive impact on the world.
There are three types of social entrepreneurship causes: for profit, not for profit and hybrid. 
Let's break down the nuances of each model. 
For Profit
A for-profit company has the flexibility to bring in investors, who in turn are rewarded with a share of the revenue. However, they are not able to receive donations or grants. 
There is no limit on a for-profit company's ability to generate revenue by providing goods and services, and all for-profit companies must pay taxes. 
Not for Profit
There are various kinds of not for profits, but the most common is one that seeks tax-exempt status through Section 501(c)(3). 
These types of organizations are eligible to receive tax-deductible donations. 
If you're looking to create this type of organization, you would want to consider this model if your business is operating in a field with significant opportunities for grants, such as education or healthcare. 
As the name suggests, this model has limitations with regards to revenue. 
All of the money made must go back into the organization — there is no "profit sharing" among members. If there is, the organization will risk losing its 501(c)(3) status. 
Hybrid
This model is a blend of the for-profit and not for profit structures. 
In this scenario, there are two related entities, for-profit and a not for profit, that serve one mission. 
Revenue from the for-profit flows to the not for profit as a way of funding its mission. 
This structure benefits flexible funding options (access to both grants and donations as well as individual investors) and no limit on revenue generation, as long as the sales take place under the for-profit umbrella. 
The structure can be complicated but it is advantageous to many social entrepreneurs due to the flexibility it allows. 
Social Entrepreneurship Statistics
One falsehood that may keep entrepreneurs from putting social entrepreneurship ideas into action is the thought that social entrepreneurs don't make enough money to keep their programs sustainable. 
Here's the reality: consumers actually prioritize the ethos of a company over price, according to a survey from SAP. 
Here are a few more statistics showing how popular social entrepreneurship products are, according to CauseArtist.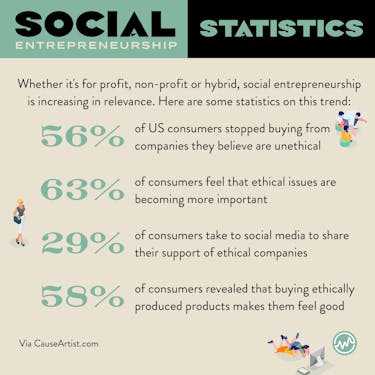 When done right, social entrepreneurship can be a sustainable effort.
Triple Bottom Line
In essence, social entrepreneurship ideas are rooted in the "Triple Bottom Line" model — going beyond the traditional measures of profits, return on investment, and shareholder value to include environmental and social dimensions.
Triple Bottom Line was a concept coined by serial entrepreneur John Elkington, citing that a balance sheet should extend beyond dollars, with a focus on three key components: 
Let's look at the "3 P's" – People, Planet and Profit – and three examples of companies that incorporate these principles into their business models.
Social entrepreneurs think about the impact their business has on the people around them: 
The founders of Causebox took the concept of subscription boxes and chose to make an impact with their choice of suppliers. 
The quarterly shipments include six to eight socially conscious products for women — in categories such as:
apparel and jewelry
homewares
skincare
beauty products
Each company gives back in its own way, ranging from artisan impact and empowerment programs to radically sustainable skincare formulations. 
Beyond supporting the suppliers with their purchases, Causebox strives to create a connection by including information on who made their product, the story of why that person made their product and what inspired them to start their company.
These are companies that make an effort to reduce or eliminate their ecological footprint. 
With a tagline of "people against dirty," Method Home is in business to change business. 
How are they doing that? Method makes cleaning products that use non-toxic ingredients. 
With a focus on sustainability, the company utilizes recycled plastic in its packaging. 
In addition to the product, Method's corporate headquarters was designed with its mission in mind. 
Three solar tracking trees are utilized in the parking lot and the company has its own 230-foot wind turbine. 
The "green roof" serves as the planting ground for urban agriculture company Gotham Greens. 
These eco-friendly choices are also friendly to Method's bottom line, serving as ways to reduce fixed costs and generate ancillary income.
While every business aims to turn a profit, Triple Bottom Businesses view profits as an engine for their greater giving. 
Many companies, like Leesa Mattress, tie a purchase with the promise of giving products to those in need. 
Combining People, Planet, and Profit, Leesa has three philanthropic pillars: 
giving one mattress for every ten sold
planting one tree for every mattress sold
devoting resources to national and local organizations
Since 2014, Leesa has donated 35,000 mattresses to over 1,000 nonprofits and has committed to planting one million trees by 2025. 
They also give staff paid time off to volunteer at local food banks, shelters, and charities.
Social entrepreneurship is not a one-size-fits-all idea. 
No matter the size or focus of your company, you can build a profitable business that makes a tremendous impact and changes lives for the better. 
How to Start a Social Entrepreneurship Cause 
Do You Have The Passion?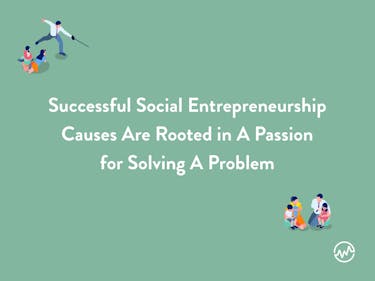 Successful social entrepreneurship causes are rooted in a passion for solving a problem. 
So how do you develop that passion? 
How can you take a different approach to solving that problem? 
Understand The Problem
The first step is to understand what the problem is that you'd like to help solve. 
Read 
Ask people about their passions 
Be open to new experiences and new ways of thinking
After that, take time to understand the community that you aim to help and tailor your approach to the unique needs of the situation. 
Create The Idea 
After identifying your passion, brainstorm about specific, actionable things that you can do to solve the problem. 
If you still can't identify a problem you are passionate about solving, here are social entrepreneurship ideas that you can explore. 
12 Social Entrepreneurship Ideas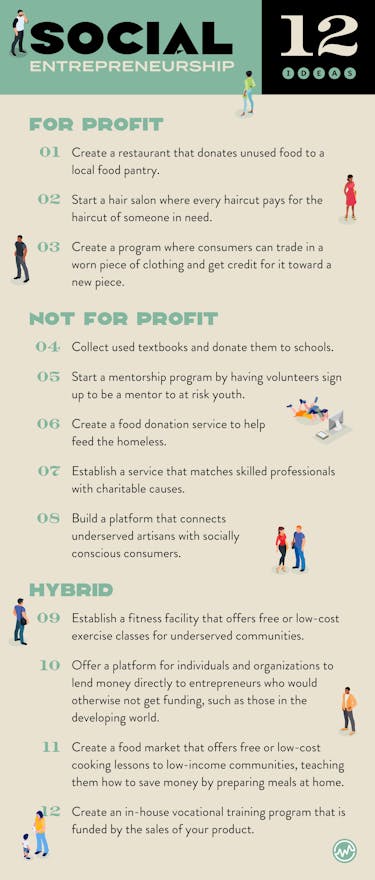 Business Plan
Once your social entrepreneurship ideas list is refined and you know what you want to do, the next step is creating a business plan that includes the following:
your company description (what you do and how you differ from the competition) 
a market analysis (snapshot of current competitors) 
budget 
financial projections
marketing plan
sales plan
Prepare yourself for the grind of running a business. The reality is that there will be days that are filled with excitement and positive momentum, and there will be days that require patience and determination. 
Keep going and don't lose focus on the passion that brought you to the business. 
FREE Online Class:
Get access to one of our best-selling online classes,
Idea To Income
, for free today.
Funding
The next step after choosing a social entrepreneurship plan is to focus on funding. You may need to get creative with how you raise money. 
Not for Profit Business Model 
Crowdfunding sites, such as Kickstarter, Fundable, and GoFundMe, have been a popular tools in turning a vision into reality, especially when the mission of the business resonates with the beliefs of the funding community. 
Aside from the financial benefits of these crowdfunding sites, you will reap other rewards while pitching your concept. You'll build brand awareness, gauge demand, gather feedback and build a following. 
Due to the guidelines of the Kickstarter and Fundable platforms, you'll also be prompted to make a cohesive business plan, set goals and tap into your social network in order to turn on the green light for your project. 
When building your pitch, clearly state your mission and how you'll accomplish it. As a social entrepreneur, in a financial sense, your business is no different than any other for-profit business. 
You want to define a problem, show your solution and demonstrate how you will structure a sustainable business around it. 
Hybrid Business Model 
If part of your plan involves partnering with a nonprofit organization as a beneficiary, do your homework before forging an alliance. Ask questions like:
How will my company's contributions be used?
What are your organization's operating costs?
Where does most of your funding come from? What percentage of your budget comes from private donations, and what do private donations help you to do that your other sources of funding don't cover?
What are your most urgent needs?
What would make the greatest difference in helping your organization get better at what it does?
For Profit Business Model 
It's important to note that in order to create a sustainable impact, your business needs to be profitable. 
Your business is designed to generate profits, but to do it ethically.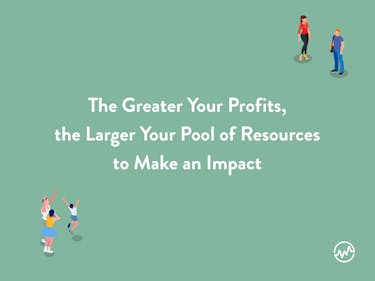 The greater your profits, the larger your pool of resources to make an impact. 
When building your profit margins, make sure to leave wiggle room to incorporate the budget to fund your social impact goals without pricing yourself out of the market. 
Be mindful of your competitors and their pricing. 
As mentioned in the earlier study, consumers are more socially aware than ever before and will pay a little more to support a company that aligns with their ethos.
Strive for B Corp Status or Be A Leader in Your Industry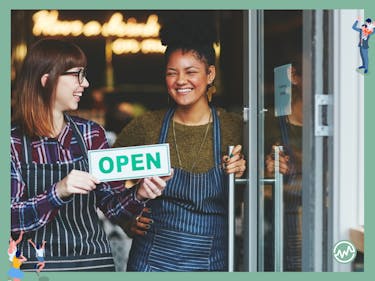 Once you have your social entrepreneurship ideas up and running, you can shift your focus to a new goal: earning a B Corp Certification. 
Founded in 2006 as a tool to help mission-driven companies protect and improve their positive impact over time, B.Lab has emerged as the gold star status in the world of socially conscious businesses. 
B Lab is the nonprofit that certifies B Corporations, and they use a Triple Bottom Line framework for their B Impact Assessment. 
You may have seen the "B" logo brandished as a badge of honor on marketing materials for:
Athleta 
Patagonia 
New Belgium Brewing
How do businesses attain B Corp status? 
Based on the size and complexity of the organization, the process takes between 1-3 months and costs between $500-$1,000. 
The assessment takes place through an online questionnaire that takes about an hour to complete. 
The B Lab rating system evaluates how companies create value for their employees, clients, the local community and the environment. 
The certification is good for one year, at which point the company needs to reapply for the status. 
How do you know if your business is eligible for B Corp status? 
Earning a B Corp certificate is open to for-profit companies. 
Your business can apply for B Corp certification whether it's organized as a:
partnership 
a limited liability company (LLC)
incorporated as a traditional C corporation
And if you do get certified, your underlying legal business structure remains the same. 
Startups can't earn B Corp status until they have been in business 12 months but they can apply for a certification-pending seal.
While going through the B Corp certification process is important for visibility, but it's not the most important part of building a socially responsible business. 
If your social entrepreneurship cause isn't for profit, instead strive to be the industry leader in exceeding expectations in impact and standards. 
Social Entrepreneurship Ideas
You can use your business to be the driving force behind creating change around the world. You just need a social entrepreneurship idea.
Aside from the day to day activities, the business plan, meetings and more, the most important part of being a social entrepreneur is truly believing in the mission of your business, which stems back to the problem you and your organization are passionately trying to solve. 
So what is your passion? 
And what problem are you trying to solve?