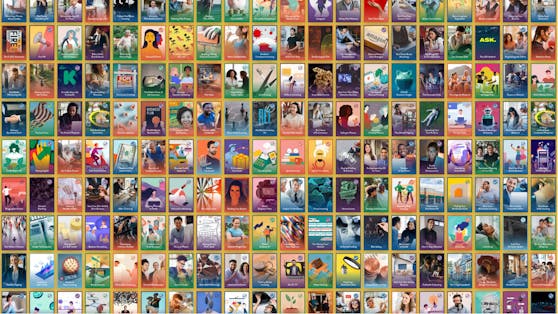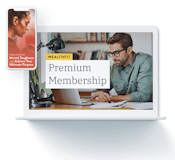 Get Access to 250+ Online Classes
Learn directly from the world's top investors & entrepreneurs.
Get Started Now
Editor's Note: Due to the Covid-19 Pandemic, traveling has changed dramatically. Before you decide to travel, please consult the Centers for Disease Control and Prevention(CDC) Travel Guidelines.
First off, it's ok to take a vacation. In fact, as a hard working entrepreneur, you deserve one. 
Vacation's aren't only for fun — in some cases, they're essential. Before we break down how to vacation on a budget, let's look at why you need a vacation. 
3 Reasons To Take A Vacation — This Year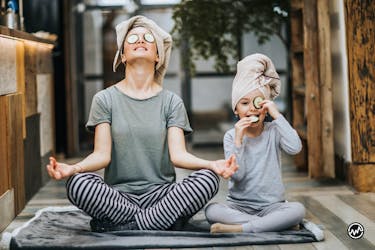 Plane tickets, hotels, attractions, food: vacation costs can add up tremendously. This can lead to going over budget, going into debt or even avoiding a vacation all together. So how can you take a trip on a budget? What are the cheapest ways to travel?
There are three reasons why you need to take a vacation. It can help you:
We'll look at each one next. 
Relax 
Burnout — defined as "physical or mental collapse caused by overwork or stress — is real. And it's dangerous. 
What was once a passion can become a pain; what was once motivation and hustle is now boredom and lack of drive.
Research has disproved the notion that endlessly working is not good for you or your business. In fact, overworking can lead to:
One way to combat the effects of overworking is to relax. 
Sometimes, this needs to be more than just a weekend — you need a vacation.
Recharge
Along with helping you relax, a vacation can help you recharge.  
By stepping away from your work mentally and physically, you can replenish your motivation and passion and return to work fresh and excited. 
Refocus
Is there an issue you're trying to solve, but you just can't find the solution? 
By taking a vacation and doing something you enjoy, you may come up with the solution.
After all, one of the best ways to be creative is to take your mind off the problem and do something else. When you face the problem again with a fresh mind, the solution may follow. 
For example, one study found that "ideas generated at work after a holiday were more diverse than before going on vacation, showing more ingenuity by avoiding a reliance on conventional ideas and routine solutions."
How Much Does A Vacation Cost?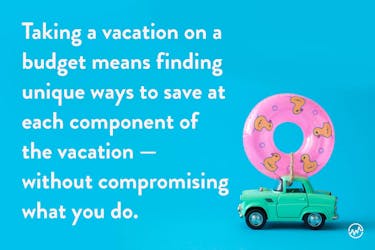 Now that you know why it's important to take a vacation, let's look at ways to make it affordable. 
In this article, we'll break down how to save money on:
flights
hotels
food
other sneaky vacation costs 
According to the 2019 Bankrate Summer Vacation survey, respondents who said they were going on a summer trip shared that they were planning to spend an average of $1,979 on their trip. 
Of those that were not planning on going, 60% said that the main reason that they weren't going was not being able to afford it. 
The truth is that not all vacations have the price tag of $1,979 or more. You can take a much needed vacation for less — if you know how.  
When talking about the cheapest ways to travel, you may think of being frugal by staying at cheap hotels, saying no to fun but expensive attractions or eating cheap and tasteless meals. 
That's not the case. 
The first step in this process to determine what your vacation will look like — and how much it will cost. 
How To Fund Your Vacation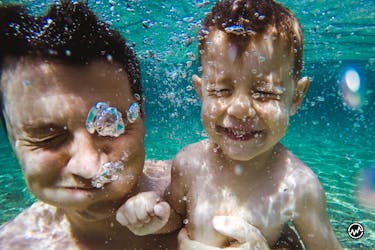 So how much money do you need for your vacation? 
It will depend upon: 
Family size
Destination
Type of vacation 
Time of year 
Once you have the vacation that you want to take in mind, the next step is figuring out how to pay for it. 
Start A Budget
You have to know where your money is going each month (and each week). By starting a budget, you can see where you're overspending and where you can cut costs. 
How much should you be saving each month? 
At least 20% of your income. You can then put a specific percentage of that into your vacation fund. 
If you don't have a budget, here are a few free resources:
Make More Money
There's no ceiling to how much money you can make. 
You can create a side hustle alongside your full time job to boost your income. 
Here are 5 side hustle options: 
Join a Delivery Service
You can earn money on your own schedule by using services like UberEATS or DoorDash to deliver take-out orders in your local area, or you can start your own delivery service. 
Teach Courses Online
Through websites like Udemy, you can create your own course on a topic that you're passionate about. Whenever someone purchases your class, you earn money! Sign up at Udemy.com to get started. 
Prepare Tax Returns
There are always people and companies in need of help during tax season. If you have previous experience with accounting, bookkeeping, or finance, get started by registering with your tax authority.  
Write and Review Resumes
You can help job seekers perfect their resumes and make a side income in the process. Utilize your personal network or look for opportunities on Upwork.com. 
Start a Blog
By creating a blog and filling it with rich content, you can eventually make money from advertising on the website—even while you sleep! Get started by creating an account with WordPress or Wix. 
Deliver Packages
With Amazon Flex, you can deliver Amazon packages for a side hustle income. It pays $18-25 per hour and you get to set your own schedule. The only requirements are that you must have a smartphone, own a vehicle, and you must pass a background check. Sign up on Amazon.com!
To see our full list of 101 side hustles, click here. 
Cheapest Ways To Travel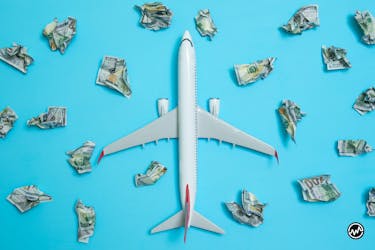 Once you have money saved, it's time to plan the trip — wisely. 
Here are the cheapest ways to travel so that you can save money on airfare. 
How To Save Money On Airfare
The average domestic flight costs $359 today. With round trip tickets and buying for other family members, airfare can get expensive — fast. Here are a few ways to lower the cost.
Plan Ahead 
Flights can be cheaper the earlier that you purchase them. Because of that, don't wait until the last minute to book a flight. 
Plan as far ahead as you can. 
Be Flexible With Your Destination 
Just because you want to visit Los Angeles to experience Los Angeles doesn't mean you have to fly directly into Los Angeles. It may be cheaper to fly into a surrounding area for cheaper.
Be Flexible With Your Dates 
Even if you're locked into a specific week due to school or work schedules, try to fly on days when prices are cheaper, such as a weekday. 
Consider Credit Card Rewards 
Many credit cards offer rewards that can pay your airfare either partially or completely.
How To Save Money on Hotels 
Aside from a flight, the next big expense is yoru lodging. Here are the cheapest ways to travel so that you can save money on hotels.
Choose Your Location Carefully 
Staying in a popular area, such as downtown or on the beach, will cost a premium.  
In many cases, you can stay as little as a block away from a main hub and see a significant reduction in prices. 
Be Wary Of Hotel Resort Fees 
Many hotels charge additional fees on top of and in addition to the regular room charge — these fees can be up to $40 or more per night. 
Before you stay at a hotel, ensure that you factor in the resort fees so that you're not surprised by an inflated cost. 
Credit Card Rewards 
As with airfare, many hotel credit cards can help pay for lodging or provide a discount. 
Many programs, such as the Hilton or the Marriott, offer the 5th night free if you pay with rewards points. 
Another example is the IHG Premier Credit Card through Chase, which offers a 4th night free on award stays as a benefit of having the card.
Join the Hotel's Rewards Program 
Joining the hotel rewards program can sometimes save you money on the booking rate as well as reduce or waive fees. 
Look for Hotel Alternatives 
Vacation rental sites such as Airbnb offer an intriguing alternative to the traditional hotel or motel scene — and are sometimes cheaper. Ensure that you factor these into your list of lodging options. 
Since these options typically come with a full kitchen, you can also sometimes save on food costs as well.
How To Save Money on Food
Another big expense: food. Here are a few tips to help you save money without forgoing quality. 
Bring Snack Food With You
If possible, try and bring snacks with you from home. Buying snacks in popular areas, such as theme parks, beaches or resorts can add up quickly. 
Find A Hotel With Free Breakfast 
Does your hotel have a free breakfast? 
A free breakfast will take care of an extra meal per day. For a family of 4 on a 7-day hotel stay, that's 28 meals that you won't have to pay extra for. 
Investigate Extended-Stay Hotels 
Hotel brands such as Staybridge Suites, Residence Inn, or Homewood Suites are targeted towards an extended-stay crowd. 
In addition to free breakfast every day, they have a full kitchen and often will offer an evening reception some nights of the week that can count as dinner.
Decide When (And Where) It's Important To Eat Out 
You'll save money if you can prepare your meals instead of eating out 3 meals a day. Just decide beforehand what's important to you and how many meals you want to budget out.
Look For Restaurants Where Kids Eat Free 
Many restaurants will offer meals or specific days of the week where 1 or 2 kids eat free with a paying adult.
Other Costs To Watch Out For
Sometimes you might get so fixated on the airfare and hotel costs that you forget about some of the other costs that come with traveling. 
Here are a few tips for saving money on activities and attractions.
Rental Car: You Likely Don't Need Insurance
Rental car insurance is a waste of money for most people. 
That's because the car insurance coverage you currently carry likely already protects you in the event of an accident. 
However, there's an important caveat — you must have collision coverage.
You may even be protected if you use a major credit card to secure your rental.
For example, American Express, Discover, MasterCard, and Visa typically provide rental car insurance benefits if you decline the car insurance coverage offered at the rental company. 
Airline Baggage Fees 
If you have an airline credit card, you may be able to take advantage of baggage fee reductions. 
Many airline credit cards offer a free checked bag for up to 6 passengers. Southwest allows 2 bags to fly free.  
Package Options
Sometimes, buying transportation, airline tickets and lodging as a package comes out cheaper than buying each individually. Be sure to factor these packages into your trip planning.
Cheapest Ways To Travel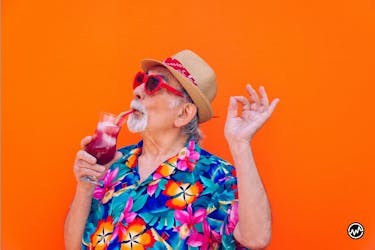 For hard working entrepreneurs, taking a vacation is critical for health and productivity. But it doesn't have to come with a budget-busting expense. 
Utilize these cheapest ways to travel recommendations to travel on a budget, and return with a fresh mind ready to take the next step in your entrepreneurial career. 
Continued Learning
Now that you know the cheapest ways to travel and how to save money on vacation, here are a few other free resources on saving money.