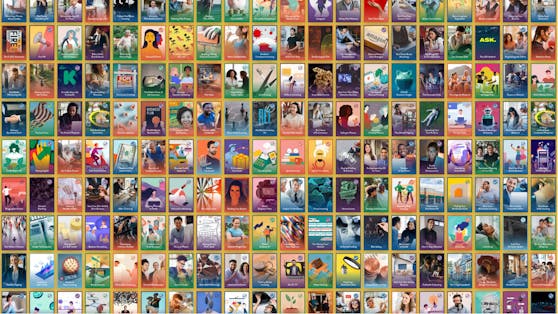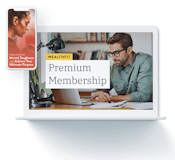 Get Access to 250+ Online Classes
Learn directly from the world's top investors & entrepreneurs.
Get Started Now
Whether your company made staff changes, the economic impacts of Covid-19, or other various reasons, you've been let go. That income that you've been relying on has dried up. Now what do you do? 
Most people panic. Instead of panicking, you need to get to work on the solution: creating income for yourself and your family both in the short term and the long term. 
Luckily, the government understands that hard times fall on good people and sometimes, losing your job and your income isn't a result of your work performance. 
That's why the federal government and state governments have joint programs that provide unemployment benefits for the short term. 
But there is confusion about unemployment and the benefits you can receive. In this article, we'll provide answers to the question "how does unemployment work" by breaking down:
What unemployment is
Whether or not you are eligible for unemployment benefits
How much unemployment pays per week
How Covid-19, or the coronavirus, has changed the current unemployment benefits 
How to create long term income that was more than what you had before
Ready? Let's dive into the intricacies of unemployment by first explaining what unemployment is. 
What Is Unemployment?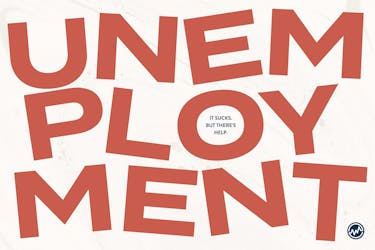 Simply put, unemployment refers to those who are jobless and are seeking work.
Workers can lose their jobs for a variety of reasons, including:
A company making changes, such as downsizing, outsourcing or being bought out 
Economic or financial impacts (such as Covid-19)
Unemployment benefits are provided in a program that's jointly run by the federal and state governments. 
How Is Unemployment Calculated?
Some of the confusion around the question of how does unemployment work is how it is calculated. 
Each state calculates benefits differently. 
According to EmploymentLawFirms.com, most states will use an applicant's earnings during the highest-paid calendar quarter of the base period as a starting point. 
Keep in mind that for most states, the base period is the earliest four of the last five complete calendar quarters an employee worked before becoming unemployed. 
On the other hand, some states use the two highest-paid quarters of the base period.
All states take prior earnings into account in some way.
On your state unemployment, you'll be able to find out how much unemployment you can receive based on the calculators provided.  
How Much Does Unemployment Pay?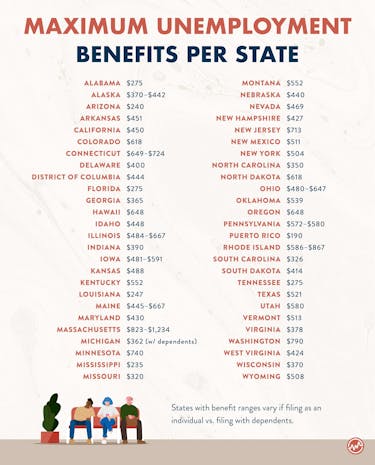 When someone asks how does unemployment work, he or she may be referring to how much unemployment pays.
If you are eligible and you receive unemployment benefits, the amount will depend upon:
what you used to earn 
The state you live in
Keep in mind that every state also has a minimum and maximum benefit amounts. You cannot exceed the maximum.  
For example, here are a few maximums per week:
Arizona: $240
New York: $504
Texas: $521
Florida: $275
Ohio: $480 
Virginia: $378
Colorado: $618
South Carolina: $326
How Long Can You Collect Unemployment?
Many states offer unemployment benefits for up to 26 weeks, or half a year.
How To Determine If You Are Eligible For Unemployment Benefits 
Just because you lost work doesn't mean you're automatically eligible for unemployment benefits.
According to the Department of Labor, while each state sets its own unemployment insurance benefits eligibility guidelines, but you usually qualify if:
Your unemployment is no fault of your own
Meet work and wage requirements. You must meet your state's requirements for wages earned or time worked during an established period of time referred to as the base period. In many states, this is "usually the first four out of the last five completed calendar quarters before the time that your claim is filed."
Cases When You're NOT Eligible For Unemployment Benefits
There are instances when you aren't eligible for unemployment. This can include: 
Quitting or leaving work without "good cause"
Being fired for misconduct in the workplace
Not being able or refusing to work. To receive benefits, a requirement is being able to find and accept a job.
Making false statements or providing false paperwork to obtain benefit payments.
Changes To Unemployment Benefits During the Covid-19 Crisis 
Unemployment benefits during the Covid 19 crisis have been significantly expanded because of The Coronavirus Aid, Relief, and Economic Security (CARES) Act passed on March 27, 2020.
The law provides: 
up to 13 additional weeks of unemployment benefits along with what your state provides. This adds up to 39 weeks total
an additional $600 per week in addition to any state-provided unemployment benefits through July 31, 2020
unemployment benefits for self-employed 
You may also qualify for unemployment benefits during the covid-19 crisis if you:
can't work because you've been told to quarantine or self-isolate, you're caring for a family member with COVID-19
you're looking after a child whose school has closed
How To Apply for Unemployment Benefits in 3 Steps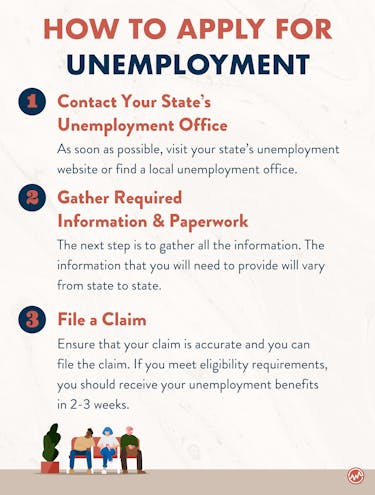 If you have been recently let go, let's break down how you can apply for unemployment benefits today in 3 simple steps. 
Step 1: Contact your State's Unemployment Office 
As soon as possible, visit your state's unemployment website or find a local unemployment office. 
Step 2: Information and Paperwork
After you find out your state's requirements for applying, the next step is to gather all the information. 
The information that you will need to provide will vary from state to state. Here are a few examples: 
California
You will need to provide::
Last employer information including company name, supervisor's name, address (mailing and physical location) and phone number
The last date worked and the reason you are no longer working
Gross earnings in the last week you worked, beginning with Sunday and ending with your last day of work
Information on all employers you worked for during the past 18 months, including name, address (mailing and physical location), the dates of employment, gross wages earned, hours worked per week, the hourly rate of pay, and the reason you are no longer working.
Notice to Federal Employees About Unemployment Insurance, Standard Form 8 (former federal employees only)
Citizenship status, and, if you are not a U.S. citizen, information from your employment authorization document
Texas
You will need to provide: 
Last employer's business name and address
First and last dates (month, day and year) you worked for your last employer
Number of hours worked and pay rate if you worked this week (including Sunday)
Information related to your normal wage
Alien Registration Number (if not a U.S. citizen or national)
Virginia
You will need the following information to file your claim:
Your Social Security Number
The accurate employer names, addresses, telephone numbers, and dates of employment within the last 18 months.
The name and local number of your local union hall, if you obtain work through a union.
Your Alien Registration Number if you are not a US citizen.
If you have any Non-Virginia employers you must have an accurate mailing address, phone number, and dates of employment for them.
You will be asked to select a method of payment: VA Debit Card or Direct Deposit.
Step 3: File a Claim
After you enter in all your information, ensure that it is accurate and you can file the claim. 
If you meet eligibility requirements, you should receive your unemployment benefits either via direct deposit or a debit card in 2-3 weeks. 
4 Options for Health Insurance During Unemployment
If you have been receiving health insurance through your employer, it will likely be voided by the end of the month. 
Living without health insurance is a risk. If you or a family member has an accident or emergency, you could be on the hook for hundreds of thousands of dollars in medical bills — and this could lead to significant medical debt.
Instead of facing this risk, there are ways that you can obtain health insurance during your unemployment. Here are 3 options. 
Option 1: COBRA
The Consolidated Omnibus Budget Reconciliation Act (COBRA) is a federal law that may allow you to stay on your employee health insurance after your job ends, usually for 18 months. 
In order to do so, you will have to pay the full premium yourself, plus a small administrative fee.
For more information on COBRA, click here. 
Option 2: Marketplace Health Insurance
Another option is to buy health insurance on the government marketplace. 
Although enrollment only occurs during specific periods, if you lose your job, you may qualify for the "Special Enrollment Period", which means that you can buy insurance outside the yearly Open Enrollment Period within a 60-day timeframe. 
To explore this option, visit HealthCare.Gov.
Option 3: Private Health Care Plans 
While this may require you to pay a high deductible, you can buy private health insurance directly from an insurer in your area. 
Option 4: Medicaid
Medicaid provides health coverage to low-income adults, children, pregnant women, elderly adults, and people with disabilities. 
To find out if you are eligible, click here. 
Tax Implications of Unemployment Benefits 
Another facet to the question "how does unemployment work": it's important to keep in mind that there are tax implications of the unemployment benefits you receive because the unemployment benefits are considered by the IRS as to be taxable income.
If you receive benefits, state unemployment divisions will issue you an IRS Form 1099-G.
Also, when you receive benefits, you can choose to have income taxes withheld from your compensation to avoid owing a large amount of tax on your tax returns. 
Side Hustles and Unemployment
While you seek unemployment, you do have the option of making money on the side — with a side hustle. If you do, keep in mind that it will have an effect on how much unemployment you can receive. 
You must report your earnings to the state unemployment agency, which will determine whether your unemployment benefits should be reduced to reflect those earnings.
If you want to do a side hustle, consider these:
Here are 5 side hustle options: 
Join a Delivery Service: You can earn money on your own schedule by using services like UberEATS or DoorDash to deliver take-out orders in your local area, or you can start your own delivery service. 
Teach Courses Online: Through websites like Udemy, you can create your own course on a topic that you're passionate about. Whenever someone purchases your class, you earn money! Sign up at Udemy.com to get started. 
Prepare Tax Returns: There are always people and companies in need of help during tax season. If you have previous experience with accounting, bookkeeping, or finance, get started by registering with your tax authority.  
Start a Blog: By creating a blog and filling it with rich content, you can eventually make money from advertising on the website—even while you sleep! Get started by creating an account with WordPress or Wix. 
Deliver Packages: With Amazon Flex, you can deliver Amazon packages for a side hustle income. It pays $18-25 per hour and you get to set your own schedule. The only requirements are that you must have a smartphone, own a vehicle, and you must pass a background check. Sign up on Amazon.com!
To see our full list of 101 side hustles, click here. 
4 "Audits" To Do While Unemployed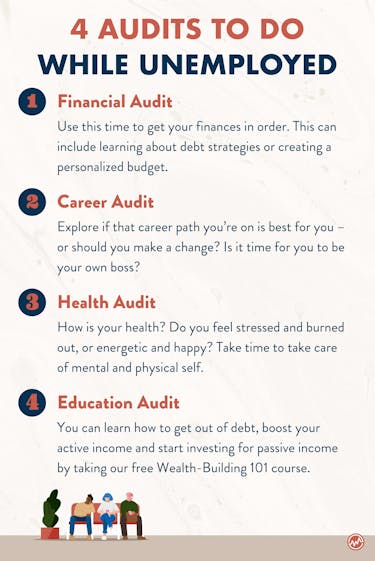 Being unemployed is not only difficult financially; it's also psychologically difficult being thrown out of your work routine and losing co-worker friends. Losing a job might even have you searching for purpose and meaning
After you file for unemployment benefits, you will have more time on your hand than usual. This is something you can use to you advantage by looking at your career, health and finances and examining what changes, if any, should be made. 
There are 4 audits you can do during unemployment:
Financial Audit
Career Audit
Health Audit
Education Audit 
We'll look at each one in depth next. 
Financial Audit 
You can use the time to make a plan to get your finances in order — if you haven't already. This can include: 
Career Audit 
You can utilize this time to explore if the career path you're on is best for you — or if you should make a change. Did you like your job? Did you like your day to day routine? Did you feel fulfilled?
Health Audit
How is your health? Do you feel stressed and burned out, or energetic and happy? Take time to do a health audit: 
Get a Financial Education 
You can also take this time to get a financial education and take control of your personal finances.
Why is a financial education important?
Not only did schools not teach us how to handle money; a financial education is the difference between:
Living in the shackles of debt...or being debt-free
Never retiring….or retiring early 
Financial stress... or financial peace 
Living the life you never wanted….or living the life you deserve
You can learn how to get out of debt, boost your active income and start investing for passive income by taking our free Wealth-Building 101 Course — it won't cost you a penny.
How Does Unemployment Work? 
Now that you know an answer to how does unemployment work, remember that when you face unemployment, don't panic. Instead, get to work on finding a solution. 
If you're eligible, you'll be fortunate enough to have income for the short term. 
And for the long term, reevaluate yourself and your career path to make any changes necessary. 
Years from now, you can look back on your time unemployed as a terrible and wasted time, or an opportunity where you asked yourself the hard questions and set yourself on a different path.  
The choice is yours.