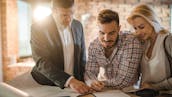 The 9-Step Wholesaling System
How To Complete Your First Wholesale Deal, Step-by-Step!
Take This Class
What is wholesaling real estate?
The real estate market offers investors many different ways to make money. Some of these methods involve a significant financial investment upfront — flipping houses and landlording are two of the most common examples.
But if you don't have money stored away to buy and fix up a property, or you have poor credit, there's still a way to make a profit in the real estate market today: it's called wholesaling.
Real estate wholesaling isn't as widely known as flipping and it's not as straightforward as buying a rental property, but it is a real estate investing strategy that can be profitable to those who are willing to put in the necessary time and effort.
What is Wholesaling Real Estate?
Real estate wholesaling involves finding properties that are owned by motivated sellers.
Often these are distressed properties, such as homes in need of repair or with owners in default on their mortgages.
As a wholesaler, the strategy is to find an owner who is willing to sell at a lower price, and sign a contract with them to buy their property.
The next step is to market the property and look for potential buyers. The goal is to sell (or assign) the contract to a cash buyer at a purchase price higher than what the seller would accept.
Your profit as a wholesaler is the difference between the price you offered the seller and the price a buyer is willing to pay, minus any expenses you had along the way, like advertising.
It's important to realize that wholesaling real estate isn't a way to get rich. Instead, it's a way to generate cash, usually $5,000 to $10,000 or potentially more, without having to put up any money of your own.
Advantages of Wholesaling Real Estate
There are several advantages of wholesaling real estate. These include: 
Get a Foot in the Door of Real Estate Investing
Wholesaling is considered a great way for new real estate investors to become involved with the real estate industry — without making a cash investment. 
No Need to Invest Cash
Saving for a cash down payment and financing your property can be the largest hurdles when real estate investing.
When you wholesale real estate, you don't have to make a down payment or make mortgage payments. 
No Credit Score Review 
Poor credit can be a roadblock to people who want to invest in real estate. One of the biggest advantages of wholesaling real estate is that you do not have to undergo a credit score review. 
Fast Way to Make Money in Real Estate
Wholesaling real estate can be the quickest way to make money as a real estate investor.
Once you find an investment property with a price below market value, you can turn it around in a short amount of time and make a profit. 
The wholesaling process can take anywhere from a few days to a few months, making it a fast way to make money. 
Disadvantages of Wholesale Real Estate
Just like any form of real estate investing, wholesaling real estate comes with its fair share of disadvantages. These include: 
No Regular Income
When you invest in a rental property, you can expect a check from renters every month. 
However, once you sell a wholesale property, the deal is done. It does not make money for you.
Have to Search for Below Market Value Homes
Until you become proficient in determining if a property is a worthwhile investment and develop a network of real estate agents who can direct you to an investment property, finding the right below-market property can be difficult and time-consuming.
You Have to Find Buyers
Maintaining a solid list of buyers for your wholesale properties is often the key to success. 
Developing your buyer list can take time, especially when you are just starting out.
How to Wholesale Real Estate in 7 Steps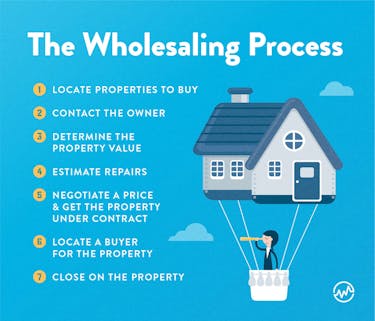 The process of wholesaling real estate isn't complicated—it only takes a bit of hustle, and a willingness to do the legwork that's required, such as talking with owners to find properties to wholesale.
Let's walk through the steps so that you can see how it's done.
#1: Locate Properties to Buy
First, you'll need to locate motivated sellers. Real estate agents know the market and may be able to help, but for the most part you'll want to talk to owners without someone in the middle.
You can check sites like Craigslist, FSBO, and HomesByOwner. They all have listings where owners are trying to sell without a real estate broker.
Here's another option: hire someone to find properties for you to save you time. They may search online, drive around making a list of vacant houses, or go knocking door-to-door.
These finders are sometimes referred to as "bird dogs". They work on spec, which means they don't get paid unless you make a profit. Or, you can pay them per lead.
Check the laws in your state before settling on a payment arrangement.
Other options for finding properties are:
Buy mailing lists and send out letters and postcards
Attend real estate networking events
Putt out "bandit signs" to attract motivated sellers
Some options require a greater up-front marketing investment than others. For example, it might cost a few hundred dollars to put out bandit signs, which can cut into your profits.
Ultimately, you should pick a few methods within your budget and see what works.
#2: Contact the Owner
Because you can't wholesale a property without making an offer on it first, you're going to have to pick up the phone and call people.
Also, keep in mind that property owners may be leery of contracting with a wholesaler. After all, it's a non-traditional route to selling property they've never heard of before.
But if they're motivated, there's not much salesmanship involved at all.
Instead, you'll need to empathize with the seller's difficulties. For example, they might be in danger of defaulting on their mortgage.
You can point out that not only will selling to you prevent that from happening— selling may help them get back on their feet financially.
Just remember: the main purpose of contacting sellers isn't to persuade them to do anything. It's to find out if they're motivated, and fewer than 1 in 10 truly are. If they're not, no problem! Move on quickly.
When it comes to presenting yourself, you have two options:
You can be up front with the owner that you're a wholesaler. That means letting them know that your intention is to find another buyer and assign the contract to them in order to make a profit on the sale.
The second option is to sign a contract with the owner without mentioning wholesaling. Many wholesalers tell homeowners that the buyer is their partner. While this practice is not illegal, it is somewhat ambiguous. You can learn more about wholesaling laws here and always proceed with caution.
Your goal in the negotiation is to get the owner to agree to sell the property at a low price. You can find simple real estate contracts online and alter them to suit your needs, or have an attorney in your state make any necessary edits.
#3: Determining the property value
If you're going to buy a property under market value, then you need to know what the market value is in the first place.
The first reason is to quickly find out if the seller is motivated. If they tell you their house is worth $200,000 and they're asking for $200,000 then it's obvious they are not motivated and we recommend not spending much more time talking with them.
If you ask the owners for the least amount they would accept and they give you a figure that is $20,000 or more under market value, then you know you're onto something.
Once you have ballparked it on the phone, it's time to confirm your assumptions. Specifically, you want to find out:
What similar houses (square footage, number of bedrooms, number of bathrooms)
In good condition (not fixer-uppers)
Nearby (same neighborhood or as close as possible)
Have sold for (not asking prices, not pending sales)
Recently (within the last 3 months, ideally, otherwise the last 6)
When you've found at least 3 previous sales that match this criteria, then you have a range in mind of what the house you're looking at could sell for once any needed repairs have been completed.
A real estate agent is the best way to get this information. You can also search yourself using Zillow.com. Just make sure to find the comps yourself and don't rely on their Zestimate, which is significantly off most of the time.
#4: Estimating Repairs
We'll get to the part about what price to offer the seller soon, but before you come up with that figure, you'll need to factor in repair costs.
Why would you do this if you're selling to an investor and not an owner-occupant?
The reason is this: it's an expense that will cut into their bottom line, and you'll have to lower the price accordingly.
Even though they're not living there, they will still need to be able to attract a tenant or another homebuyer.
Your best bet—until you have rules of thumb for various repair costs—is to get estimates from contractors. When you tour a property, bring a contractor with you to see what needs repair.
Another option is to make a list of everything you see as you walk around, and run it by the contractor afterwards.
Keep an eye out for things like paint, carpet, cabinets, counters, appliances, or anything else that needs to be redone or replaced. A good rule of thumb is when in doubt, assume it has to be done!
For example, look at the roof. How old is it? Does it need to be replaced? How about the windows?
Look at the major systems in the house as well, such as the electrical, heat, and plumbing.
Once you have a ballpark estimate of the repair costs (and be conservative), you can use these numbers to justify the price you offer the seller.
#5: Negotiate a Price and Get the Property Under Contract
Now it's time to negotiate a price with the seller. You'll need to go in with a knowledge of your repair estimates and also what the house could sell for afterwards.
The best formula for coming up with an offer is this: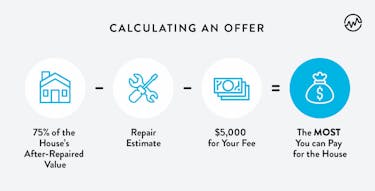 Calculate 75% of the house's after-repaired value
Subtract the repair estimate
Subtract at least $5,000 for your fee
The remaining amount is the most you can pay for the house
Here's a quick example: the house is worth $100,000 after repairs, so you lower that to 75% ($75,000), and subtract the repair costs of $15,000 and your profit of $5,000, bringing the total price down to $55,000.
You can always start the negotiation even lower than that, but that is the most you can pay and still earn what your time is worth. If the seller accepts (and probably 1 in 4 motivated sellers will), then sign a contract to buy it and give yourself 30 days to close.
#6: Locate a Buyer for the Property
Now that you have a contract to buy the property, you have an asset to sell.
Your next step is to find someone to buy you out of the contract and close on the property with the seller.
You'll need to work quickly, since your contract with the seller will expire in 30 days. But, since you're looking for buyers who can pay cash, they will be able to close quickly because they don't have to qualify for a loan and jump through all the hoops that would require.
There are several methods you can use to find cash buyers:
If you have a list of local real estate investors, email or call them immediately to ask if they're interested.
Go to local networking events for real estate investors to meet more and announce the property for sale
Print flyers with the property information and distribute them.
List the property on free sites like Craigslist or Zillow.
You may be able to find other creative ways to spread the word about the available property.
But regardless of what you do, the real power is in building a buyer's list so that when you do this again in the future, you can notify as many qualified buyers as possible right away.
#7: Close on the Property
The final step is finding a title company to handle the closing. You want to find one that understands what wholesaling is (quite a few don't).
The right title company will also be able to do a title search for you within a few days. A title search is necessary to find out if there are any liens or other surprise encumbrances on the property.
Don't wait until this is done to announce it to your buyers, though, in the interest of time.
Once you've found your buyer, get them in touch with your title company as well and they will take the lead in coordinating the sale, collecting funds from your buyer and preparing the settlement statement.
Once the seller and buyer have signed the final closing documents, then the title company will record the deed and it's payday for you!
You'll receive your funds by check or wire transfer.
How To Start Wholesaling Real Estate: 3 Tips for Beginners
Here are important tips for doing your first wholesale real estate transaction. 
Wholesaling Tip #1: Establish Your Goals
Before you begin, set achievable and measurable goals. To do this, answer questions such as: 
Are you looking to wholesale one property? Two? Five? 
What's your price point?
What areas are you targeting?
Wholesaling Tip #2: Set Up Your Website
Setting up your website allows people to find you online. 
Use your website to establish your personal brand and present yourself as trustworthy and hard-working. 
Wholesaling Tip #3: Do Your Homework
Education, education, education. 
Know how the wholesaling deal works and find out the policies in your locale. 
Know your seller's situation so you can smooth out any glitches that come up. 
Know as much about the wholesaling process as possible. 
You will have an easier time negotiating if you are backed by knowledge.
Wholesaling Real Estate Frequently Asked Questions (FAQs)
Here are some common Frequently Asked Questions about wholesaling real estate.
Q. Do You Need A License To Wholesale Real Estate?
If you are the principal buyer or seller in the transaction, you do not need a license to wholesale real estate. 
However, if you do have a real estate license, in most states you must disclose that fact when you enter into a contract as a buyer or a seller. 
Q. Real Estate Wholesaling Vs. House Flipping: Which Is The Better Investment?
Both flipping and wholesaling are good strategies when it comes to real estate investing.
With wholesaling, you find a home that needs work with the intent to assign the contract to another buyer. 
When you wholesale a property, you typically sell it as-is without any renovations or improvements.
When you flip a property, you find a home at a good price and you renovate it. You then find a buyer and sell at a higher price, netting a profit.
Wholesaling is the preferred strategy if you want a fast turnaround and less of an investment. You will not need a down payment on a mortgage loan or money for renovations.
On the other hand, flipping most likely will give you the opportunity to make more of a profit.
Q. How Much Should You Offer For A Wholesale Deal?
Real estate experts say that once you find a suitable property (distressed property) you should leave a lot of room for negotiation. Make your first offer low, between 40% and 60% of the asking price.
The Bottom Line: Is Real Estate Wholesaling Right for You?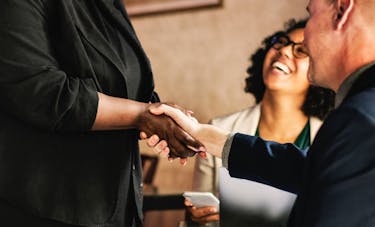 Wholesaling real estate isn't the strategy for everybody.
It's ideal for people who:
Have a knack for finding distressed properties
Have strong research skills
Have excellent negotiating skills
Have a modest amount of money to spend on marketing to generate leads
If you're willing to do the legwork, real estate wholesaling can be an effective way to earn money. I've personally done it dozens of times myself, to generate cash to use as a down payment later on a flip or long-term rental.
It's one of the few things that pretty much anyone can do to make money in real estate.
But still, there will be a learning curve, and remember — the first deal is always the hardest.
Stick with it, and you'll find that you'll have a consistent source of cash or capital for years to come.